Rail chaos claim as Team GB match breaks passenger record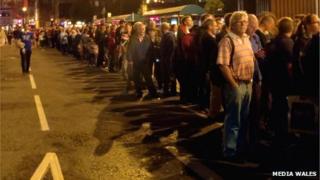 A record number of passengers using Cardiff's main railway station caused travel disruption after Team GB's men's football match, according to First Great Western (FGW).
A total of 19,500 used Cardiff Central after the game on Wednesday night, double the normal figure after an event at the Millennium Stadium, says FGW.
FGW said 9,000 of those passengers used its service.
Rail passengers complained of "utter chaos" and being "herded like cattle".
'Patience'
A spokesman for FGW said the game saw an "unprecedented number of passengers" travelling to Cardiff on its services.
"With twice as many customers travelling by public transport than for any other event held at the Millennium Stadium," he said.
"Many of those travelling to the match had not purchased tickets in advance, so the true number of passengers travelling could only be ascertained on the day of travel."
He said contingency plans were in place to deal with the "record number of passengers" and 14 extra trains between London, Bristol and Cardiff were provided.
"We fully accept that services were busy and we would like to thank customers queuing at Cardiff Central for their patience," he said.
"We are working with the managers of that station, Arriva Trains Wales, to improve the flow of traffic prior to the next Team GB's game."
A spokesman for Arriva Trains Wales (ATW), which manages the station and provides local trains, said: "The normal queuing system for fans was in place at the station as is used after all major Millennium Stadium events.
"We recognise that fans will have had to wait outside the station before boarding their services home, however, this was done to ensure the safe and controlled movement of large volumes of people onto trains."
Chris Wild, from Bath, contacted the BBC, saying: "I left the Millennium Stadium at 5.15pm - utter chaos at Cardiff Central.
"There were supposed to be defined queues for passengers according to destination. We were there for five hours."
Juliet Edwards, who was booked on to the 22:20 BST Paddington train with her two children, said the experience was "chaos".
"Having arrived at Cardiff Central Station at around 22.00 we had to queue along with thousands of other people outside the station for over an hour and a half, some of it in the rain.
"There was precious little information given out and many people were doubting whether they would make it home."
Katie Whiting, who was travelling to Bristol, said passengers were "treated like cattle".
"We were herded in and packed like sardines... with no food, water or toilet facilities," she added.
Another sell-out crowd is expected for Team GB's quarter final at the Millennium Stadium on Saturday night.