Jack Thomas: Natural causes death of 'super-fit' boy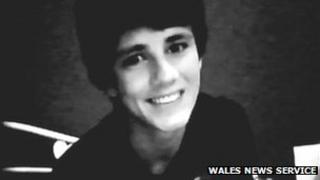 A teenager who died suddenly watching Wales play rugby on TV had no obvious medical problems, an inquest has heard.
Jack Thomas, of Oakdale, Caerphilly, who was described by his father as super-fit, was at his girlfriend's house when he collapsed.
A pathologist told Gwent coroner's court he was not injured and his heart and arteries were normal.
Coroner David Bowen ruled that he died of natural causes but said the specific cause could not be identified.
After Jack died during the Wales v Scotland game on 12 February this year, his father Grant said the family wanted answers on why their son - who he said had never been ill - died.
The 6ft 3in (1.90m) teenager had represented Wales at taekwondo and was an accomplished rugby player and cricketer.
The inquest in Newport heard how Jack had walked three miles from home to his girlfriend Emily's house in Newbridge to watch the Six Nations match with her and her family.
No injury
Her father Richard Brown said that at half-time Emily took photos of Jack smiling and pulling faces but then realised something was wrong.
He said Jack was sat upright, tipped his tea over his trousers and made a couple of light groans.
The coroner's court heard that Mr Brown carried out cardiopulmonary resuscitation until an ambulance arrived.
Jack had been at his home for about 40 minutes and had not complained of feeling unwell.
Pathologist Dr Edward Williams said a post-mortem examination found no sign of any injury and no significant abnormalities in the heart and that the arteries were normal.
He said the most likely cause was cardiac arrhythmia, where the heart beats out of control but leaves no trace that can be seen in a post-mortem examination.
Coroner David Bowen said Jack had not been in an accident and there were no drugs or alcohol in his bloodstream.
He told the teenager's parents that the inquest may not provide them with the answers they were looking for, adding that their son's death was natural.
Devastated family
Speaking to the South Wales Argus after the inquest, Jack's parents June and Grant, said they were devastated that nothing was found to explain his death.
Mrs Thomas told the newspaper they wanted to keep their son's memory alive and were raising money for the charity Cardiac Risk in the Young.
She said it cost around £3,500 to heart screen 100 people and that they wanted to raise enough to screen at least 400 people in the south Wales valleys.
She said Jack, an Oakdale Comprehensive pupil, was "missed by us all", and a "very happy, intelligent, fun-loving young man," who was a hero to his younger brother Owain, 13.