Ann Romney's pub visit at Llangynwyd, near Maesteg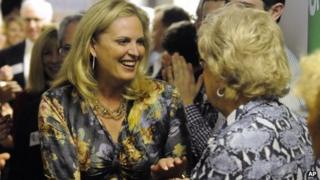 The woman who could be the next first lady of the United States took over a pub for the day as she tried to find out more about her ancestry.
Ann Romney, wife of the Republican presidential candidate Mitt, spent the day at Llangynwyd, near Maesteg.
She is the granddaughter of David Davies, a coal miner, of Nantyffyllon, who emigrated to the USA in the 1920s.
Mrs Romney's visit, which saw her spend the day at a pub, will be broadcast on American TV.
Speaking before her visit to the 850-year-old pub, the Old House, landlord Richard Stephens-David, who had just a week to prepare for the trip, said: "We'll be having a combination of a Welsh and American breakfast - a full cooked breakfast but pancakes, too.
"Lunch will be Welsh-themed with Welsh rarebit, rack of lamb, wild mushroom and pea risotto. We'll have a Welsh cheese board for afterwards."
Famous visitors
While on the campaign trail, Mrs Romney was noted for treating campaigners and journalists to Welsh cakes.
"We'll certainly be serving Welsh cakes, too," Mr Stephens-David said.
The Old House is one of south Wales' oldest pubs and has been in Mr Stephens-David's family for generations. Richard Burton and David Bowie are among its famous visitors.
The father-of-three said: "Two of Mrs Romney's people came here for lunch and fell in love with the place. They said she had family connections here and could they film here.
"I was shocked at first. I told them it was a very busy pub and asked would it interfere with lunchtime."
Mrs Romney's staff and American broadcaster NBC, who are filming the visit, had exclusive use of the pub for most of Saturday.
A security team had carried out checks at the venue before the visit.
"They've had a look round and assessed what they need to do - they've probably carried out checks on us, too," Mr Stephens-David said.
Mrs Romney will end the day visiting St Cynwyd churchyard, Llangynwyd, and listening to the church's male voice choir.
Her grandfather worked at Coegnant Colliery before moving to Detroit in 1929 to work in the car industry. He was later joined by his wife, Annie, and his son, Edward, who was Mrs Romney's father.
He started his own business and worked on the Nasa space programme.
Mrs Romney's second cousin, Roddy Evans, lives in Porthcawl.
Previously, he told BBC Wales he had met the Romneys and said they are "lovely people".
"Ann, as you've seen from her photographs is a beautiful girl... she's just a very sweet person," he said.
"Mitt is a nice guy - family boy."
Mr Romney recently toured the UK, Israel and Poland to boost his profile globally, but it was overshadowed by media reports of his perceived gaffes.
He was criticised by the British media on the first leg of his tour in London, when he questioned the country's readiness to host the Olympics.