Porthcawl £3.2m marina plan to revitalise resort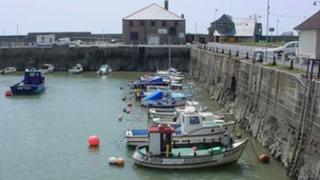 Plans for a £3.2m marina to help revive the south Wales resort of Porthcawl have been unveiled.
The harbour will be renovated to include a new lock gate and pedestrian footbridge, while the number of berths will more than double to 70.
An artist's impression and details of the scheme is on display on the harbourside until the end of August.
An earlier £26m plan for a 400-berth marina unveiled in 2005 was later abandoned due to a lack of funding.
The exhibition marks the start of the nine-month marina project, which will be officially launched by Bridgend council on Friday when it hands the site to contractor BAM Nuttall.
'Exciting milestone'
Renovation of the harbour will be the first phase, including a new lock gate with pedestrian footbridge and extension to the eastern breakwater, engineering work to the harbour walls and a new pontoon system.
The number of berths will more than double to 70, with visitor moorings also available, and the harbour master building will also be renovated.
David Sage, deputy leader of Bridgend council, said: "This is a really exciting milestone for Porthcawl.
"Over the next nine months we will see the harbour transformed into an impressive marina which will set the scene for ongoing and future regeneration.
"The quality of this project and the significant investment which is being put into it underlines how serious we are in our ambition to make Porthcawl a 21st Century seaside resort which will benefit residents, business and visitors," he said.
A wider scheme to make Porthcawl and Swansea Bay a centre of excellence for watersport is already under way, using funds from Europe, the Welsh government, and the council's own resources.
In June 2005 a more ambitious £26m plan was unveiled to create a 400-berth marina at Sandy Bay, which would have been one of the biggest in the Bristol Channel.
The scheme was abandoned in July 2007 after the council failed to win lottery and public funding.
The Porthcawl Marina exhibition will be open every Monday from 09:00 to 12:00 BST (excluding the bank holiday), Wednesdays 17:00 to 19:00 BST, and Fridays 13:00 to 17:00 BST until 31 August.