Olympics football brings business boom for Cardiff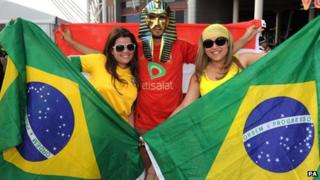 Olympic football games in Cardiff have proved to be "very lucrative" for the city's shops, hotels, bars and restaurants, retail experts say.
The Millennium Stadium is hosting 11 matches in total, and drew a crowd of 70,000 for Team GB men's quarter-final against South Korea.
St David's shopping centre said it had seen its second highest number of shoppers this year during that week.
But traders said there was very little impact in the rest of south Wales.
However, new figures for Newport council show the number of people passing through the city centre has risen "significantly".
Nearly 200,000 more people were in the centre this year compared to last, taking the total to nearly nine million - 1.5 million more than predicted.
The South Wales Chamber of Commerce said high visitor numbers in Cardiff over the Olympics had been surprising, with shops, hotels, bars and restaurants in the city reporting takings up on the previous August.
Graham Morgan, director of the chamber, said businesses believed the Olympics had brought a "very lucrative period".
"The general perception before the games was that yes, it's football, it won't be the premier attraction [of the Olympics] but when you have 30,000 at the stadium, it's 30,000 people more than normal," he said.
"But it's been a surprise to some at the number of people who have been attending the games.
"I think businesses didn't think there would be a huge impact. But there's been a surprise that there have been so many, particularly having the GB men's football team in two games within four days.
"And where we have seen overseas visitors supporting some of the other countries, they have all had a positive impression of what Cardiff has to offer."
'Extremely good'
Steven Madeley, of St David's shopping centre, and a director of the Cardiff Retail Partnership, said retailers had seen an initial "blip" in sales during the first week of the Olympics, but he put that down more to the weather suddenly improving after weeks of rain.
The following week saw the second highest number of customers at the centre since February half term.
"Stores selling gift items like handbags and jewellery did particularly well," he said.
"When we talked to the stores they felt it was because of people from other countries visiting, people from the IOC [International Olympic Committee], tourists... it was an extremely good week."
He said as well as the football visitors, he felt many local people were going into the city to experience the atmosphere.
"I think it's kept Cardiff's profile high, showing how well we can do large events," he added.
"When we had the FA Cup people who came to watch the football then came back again to visit the city. And I think we will see the same with the Olympics."
'Feelgood factor'
However, Mr Morgan said the positive impact was mainly being felt in Cardiff, and not in nearby areas.
"In terms of other parts of south Wales there's been a negligible impact beyond Cardiff," he said, adding that businesses now needed to use the "feelgood factor" generated by the Olympics as a marketing opportunity.
Extra seats were provided on trains for visitors to Cardiff city centre on Saturday for the quarter final following transport problems for the men's GB team's qualifier against Uruguay.
Long queues formed after "unprecedented number of passengers" used Cardiff Central station.
But despite the initial transport issues, Cardiff council leader Heather Joyce said the city had "risen to the occasion" of being an Olympic host venue.
"In recent years, Cardiff has secured a deserved reputation as a leading city for sport, having hosted global events such as the FA Cup final, an Ashes test match and now playing its part in the Olympics," she added.