Olympic football: Last match at Millennium Stadium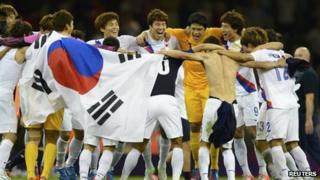 Thousands of football fans were in Cardiff to watch South Korea win a bronze medal in the last Olympic match at the city's Millennium Stadium.
South Korea became only the second Asian nation to win an Olympic men's football medal when they beat near neighbours Japan 2-0.
Cardiff council promised a "carnival atmosphere" in the city for the stadium's 11th London 2012 match.
Fans were advised to be aware of changes to rail services.
The collapse of a retaining wall sent five tonnes of rubble on to rail tracks between Cardiff's Valley line and main line and has led to alterations and service cancellations.
But First Great Western were operating their full train service including additional services planned for the football.
Services on the Cardiff Valley lines were still subject to disruption.
Cardiff council said the match, which started at 19:45 BST, would be an "exciting climax" to Cardiff's run of 11 games, which included the first sporting action of London 2012 on 25 July.
The Millennium Stadium also saw Team GB knocked out of the competition in the quarter finals.
Cardiff's Olympic role has brought tens of thousands of people to the city, the council says, and increased footfall by 22%.
Free entertainment was available between 15:00 BST and 19:00 BST, including street comedy and live music on St Mary Street, Queen Street, High Street and The Hayes.
A big screen near St David's Hall was showing live Olympic coverage throughout the day.
Gymnastics was in the city centre from 10:00 BST to 18:00 BST, to show some of their talent and help young people to take part in activities across the city.
Heather Joyce, Cardiff council leader, said: "What a great city this has been to watch the games."
Huw Thomas, the authority's cabinet member for sport, leisure and culture, added: "The amount of excellent praise the city has received during this time has been overwhelming and just reinforces what great infrastructure we have as well as the fantastic people we have working and living here, welcoming people to the city."
Forecasters predicted a clear sunny day, with a high temperature of 24C (75F).
The council's website gives details of a "full event road closure" which were in force from 17:15 BST and at least one hour after the game.
Arriva Trains Wales was also advising passengers that city centre stations were operating differently during the games .
It said Cardiff Queen Street station would be closed from 21:00 BST until the following morning, and passengers should use Cardiff Central station, where a queuing system would be operating from 21:30 BST.
First Great Western said it would provide as "as many trains as required".
Previous matches have also seen heavy traffic on the M4 motorway - a combination of football fans and visitors to the National Eisteddfod in the Vale of Glamorgan, which ends on Saturday.