Pavement thieves in Penarth steal Cliff Parade slabs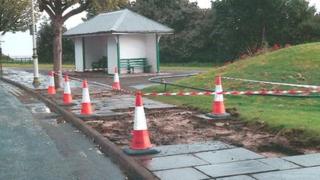 Thieves have stolen thousands of pounds worth of paving slabs from a street in a seaside town.
More than 100 slabs, worth about £40 each, were taken from Cliff Parade, Penarth, Vale of Glamorgan, some time between Monday and early Tuesday.
Council officers have cordoned off the area pending repairs and have appealed for witnesses who may have seen a lorry taking slabs away.
The street was previously targeted by pavement thieves in 2004.
A member of the public alerted the council to the latest theft on Tuesday morning.
Senior highways maintenance officer Ken Evans said: "The likelihood is that the thieves used a lorry to take the slabs away, meaning members of the public may have seen the vehicle in the area.
"Often in these cases, thieves pose as workmen in order to carry out the theft without being detected or questioned by members of the public."
In 2004 the council reported that similar slabs were being stolen from the same street and from Bendricks Road, Barry, by thieves posing as council workers wearing high-visibility jackets.
Many towns and cities across the UK have reported incidents of pavement thefts in recent years, believing the slabs are being stolen to be sold on for building work on private homes.
Witnesses who may have seen workmen in Cliff Parade, Penarth, or a lorry unloading or loading paving slabs, have been asked to contact the Vale of Glamorgan council on 01446 70011 or Penarth Police Station on 029 20222111.