Mattress recycling service to cut landfill and fly-tipping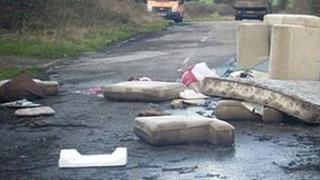 Hundreds of old mattresses are to be saved from going to landfill by a new recycling service in the south Wales valleys.
Rhondda Cynon Taf council is unveiling a purpose-built machine to break up mattresses at a plant near Aberdare.
Springs, foam and fabric will then be separated ready for recycling.
Council officers say mattresses are regularly fly-tipped, and more than 300 are sent to landfill every week where they do not biodegrade.
The purpose-built machine, made by EBS Automation in Llanelli, is believed to be the only one in the world with the ability to completely deconstruct a mattress.
It includes a production line process to boost efficiency, and a large volume shredder which reduces the volume of steel springs by around 90%.
The council says the machine can recycle 100,000 mattresses, equivalent to almost one mattress from every household in Rhondda Cynon Taf.
It currently buries around 15,000 mattresses a year in landfill sites.
The service has been funded by more than £400,000 from the council, the Welsh government and waste contractor Amgen Cymru.
It will operate from the Bryn Pica waste plant at Llwydcoed.
The council hopes it will help reduce its landfill tonnage by 1,300 tonnes a year to meet Welsh government targets.
Andrew Morgan, cabinet member for front-line services, said: "We encourage all residents to realise the benefits of this service.
"Such schemes benefit the local environment and help make this county borough a cleaner and greener place to live and visit."
A council spokesperson said it had already received expressions of interest from another council wanting to use the facility and expected that others would follow suit.
Mattresses can be taken to any of the council's community recycling centres, and in some circumstances can be collected from people's homes.
The council said residents wanting details about the facility could call 01685 372902, or 01443 425001 for information about mattress collection.