Severn bridges: Work-to-rule off, strike talks continue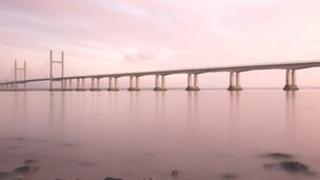 Staff working the toll booths on both crossings over the River Severn have withdrawn their threat to start a work-to-rule from next Tuesday.
But plans remain for a 24-hour strike at the start of the bank holiday.
However, Unite union officials say they are confident they are close to a deal with Severn River Crossing (SRC).
The firm is obliged to keep the bridges between south Wales and west England open and may be forced to suspend the tolls. Talks resume early next week.
About 70 toll booth staff voted in July for industrial action in a dispute over changes to shift patterns, which have now been withdrawn.
The union said the dispute was about the "work-life balance" of its members.
The two sides held a second day of talks on Friday.
Regional officer Jeff Woods said: "After a positive meeting today between Severn River Crossing and Unite the union, both parties are confident that an agreement is close.
"Industrial action, the overtime ban and work-to-rule scheduled for this coming Tuesday has been suspended in the hope of reaching a resolution by Wednesday."
He said the strike plan for Friday 24 August remained in place.
SRC was not available for comment. But it said earlier this month that it was confident there would not be a strike.