SAFE Foundation's Lucy Dickenson dies in Zambia crash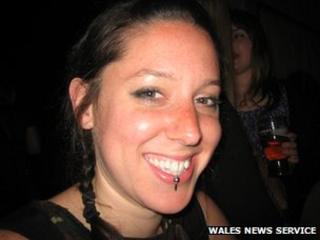 A charity worker from south Wales who devoted her life to tackling poverty has died in a car crash in Zambia.
Lucy Dickenson, 32, from Barry, was helping people in the south-central African country grow their own food when she died.
She was still being treated for neck injuries from an earlier crash when she was involved in the fatal accident.
Her family, including twin sister Hannah Fitt, were said to be devastated by the tragedy.
Ms Dickenson travelled around the world after setting up the SAFE Foundation with her sister in 2007.
They ran the charity initially from their mother's home in Barry raising money in Britain to fund projects around the world.
The organisation later moved to Cardiff where it worked with young people not in education, employment or training to boost their self-esteem by sending them to lead workshops in Africa and Asia.
Tom Beardshaw, a non-executive trustee of the charity, said on Twitter: "Lucy Dickenson, founder and inspiration behind the SAFE Foundation, was killed in Zambia on Monday. We are all in shock."
Ms Dickenson travelled to the Zambian capital Lusaka earlier in August after completing an international development degree with the Open University.
She was doing charity work with a group called Monze District Land Alliance in the south of the country when she died.
In her blog she wrote about travelling on dirt tracks in the isolated rural area and revealed how she suffered a neck injury in a previous road accident earlier in the month.
Police in Zambia confirmed on Thursday that they were investigating the circumstances of the accident.
A Foreign Office spokesman said: "We are aware of the death of a British national in Zambia and we are providing consular assistance."
'Unselfish'
Tributes were made to the charity worker who had set up projects in Zambia, Cambodia, Uganda, Sierra Leone, Ghana, India, and Nepal.
Gareth Bickerton, director of the social enterprise charity UnLtd in Wales, said of Ms Dickenson: "You would only have to meet her for 30 seconds and you would be totally blown away by her.
"She was such an amazing person, one of the most impressive people I have met.
"She was totally unselfish, always thinking about other people - someone like her should be on the front page of the newspaper every day.
"She's just a huge loss and she leaves a gaping hole in the lives of everyone who knew her.
"She achieved so much in her life but she could have achieved so much more if she hadn't died."