Parade forms part of Cardiff's annual Mardi Gras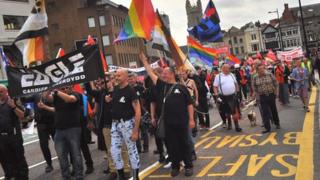 A parade highlighting lesbian, gay, bisexual and transgender rights has been staged in Cardiff for the first time as part of the annual Mardi Gras.
Organisers called on businesses, organisations and individuals to take part.
The main event is being held at Cooper's Field, where singer Heather Small will be one of the headliners.
The theme of this year's Mardi Gras is "visibility increases understanding and reduces fear".
The 12th annual event has received cross-party support in the National Assembly and the Presiding Officer Rosemary Butler will give a speech from the main stage before touring the site on Saturday.
Around 600 people took part in the parade, which started in Dumballs Road and went through St Mary Street to Cooper's Field.
Mardi Gras chairman Richard Newton said: "Since the inception of Cardiff Wales LGBT (lesbian, gay, bisexual and transgender) Mardi Gras the move towards equality for the LGBT community within Wales and the UK has come a long way.
"We have witnessed the repeal of Section 28, an equal age of consent and the recognition of civil partnerships, and now all have obligations under the Equality Act."
But Mr Newton said more work needed to be done.
"Despite legislative changes the facts are all too stark, reported hate crime against the LGBT community is on a significant increase," he added.
In February, the Welsh government announced a framework for action to tackle all forms of hate crime, including sexual orientation.
The government launched a questionnaire in June asking people for their views on hate crime, and this closes on Monday.
The responses will be pulled together into a report and will help develop the framework.
The Equalities Minister Jane Hutt said: "Cases of hate crime are shocking and unacceptable.
"I want Wales to be a fair society which is built upon principles of equality, shared values and understanding.
"The Welsh government is fully committed to put in place a framework for action across Wales to tackle hate crime as part of the programme for government and the strategic equality plan."