Swiss airline Helvetic ends Cardiff winter flights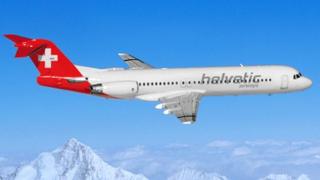 A Swiss airline has ended its flights from Cardiff to Zurich for the winter citing low passenger numbers last year as the reason.
Helvetic Airways was operating three services a week between the cities last winter, with a stop in Bristol. It will now just serve Bristol.
Cardiff Airport and the airline said discussions were continuing about restarting the route next summer.
The airport posted an operating loss of £319,000 in 2011.
Direct flights between Zurich and Cardiff began in March 2011, but a stopover in Bristol was added last December because of too few tickets being sold in Wales.
Cardiff Airport told BBC Wales at the time that the airline did not have a problem selling tickets to incoming passengers from Switzerland.
Passenger numbers at the airport have fallen in the first half of 2012 overall, down to 440,000 compared to 558,000 in the same period last year.
The airport blamed the fall on the loss of low-cost airline bmibaby.
'Not wealthy enough'
A statement from Cardiff Airport on the loss of the Zurich flights said: "Their decision to stop operating for winter 2012/13 is a commercial decision based upon results last year.
"Whilst it is disappointing we are working to ensure their return for summer 2013 and are confident that this can be achieved.
"Their operation has brought many Swiss tourists to Wales and this is, we believe, an opportunity which can be built upon."
Martin Evans, visiting fellow at the University of Glamorgan's business school, told BBC Wales the news was not unexpected because of the demographic in Wales.
"There aren't enough of us who are wealthy enough in Wales to go and take winter breaks, particularly winter breaks with sport or skiing whereas in Bristol there are more of those type of people who take these breaks.
"Combined with a lack of inbound passengers and business links between Wales and Switzerland, the route wasn't working."
He said Cardiff could not compete on a like-for-like basis with Bristol, which was a much bigger airport with two low-cost airlines based there, but needed to focus on "niche opportunities" that it could make work.