High Street future under spotlight at Abergavenny Food Festival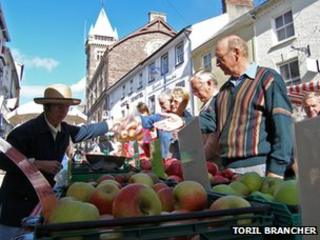 The future of the high street is under the spotlight at the Abergavenny Food Festival in Monmouthshire.
A pre-festival conference on Friday is examining the issue, while a debate on Saturday will feature speakers for and against the role of supermarkets.
Festival director Martin Orbach said: "Quite a few towns around here are having arguments about development.
"It would be good to examine what this idealisation of the high street is about."
'Polarising opinion'
Mr Orbach said the festival always aimed to stage a topical debate, with plans to redevelop Abergavenny's livestock market as a supermarket being a particularly contentious issue.
"These things are polarising opinion, with quite a lot of opposition from people who say it's important that the town retains its independent shops and retains its identity," he said.
"But it would be good to examine what this idealisation of the high street is about - does it result in tourist shopping and elite shopping that isn't aimed at local residents?"
Panellists include investigative journalist Joanna Blythman, author of Shopped: The Shocking Power of British Supermarkets, and Chris Wade, chief executive of Action for Market Towns.
Mr Orbach said he expected most of the panel to argue in favour of independent shops.
'Adapt and survive'
But Rob Lyons, deputy editor of the Spiked news website and author of Panic on a Plate: How Society Developed an Eating Disorder, said he intended to stress the positive impact of major chains.
"Supermarkets are a very good thing," he said.
"They allow people to access a wider range of goods more cheaply and conveniently than in the past.
"The high street can adapt and survive if it does those things that supermarkets and online shopping don't do as well, in terms of offering personal service and speciality goods," he added.
"And town centres need not necessarily be full of shops - we can't be like King Canute opposing these forces."
In June 2011 Monmouthshire council approved a plan to demolish Abergavenny's town centre livestock market and relocate it 10 miles (16km) away near Raglan.
Opponents say farmers want to keep the market central but the authority claims that selling the site for a supermarket and library development would help regenerate the town.
Plans by neighbouring Powys council to replace the primary school in nearby Hay-on-Wye with a supermarket have also provoked opposition from some local residents.
The festival was being preceded on Friday by a full-day conference at the Priory on food in a recession.
Speakers included Alun Davies, the Welsh government's deputy minister for agriculture, fisheries and food.