Bridgend kitten rescued after car engine ordeal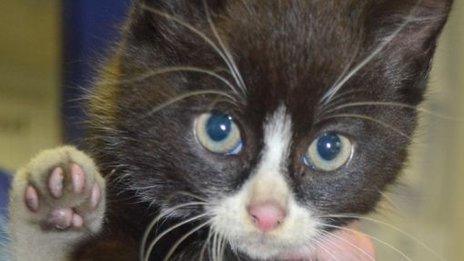 A 10-week-old kitten had a lucky escape after becoming trapped in a car engine for three days.
The animal, named Shell, even survived a 14-mile journey in the car owned by a couple, from Brynmenyn near Bridgend.
Norman and Caroline Roberts had to lift the car using a jack to rescue the kitten, who was found smothered in engine oil.
Shell, who was underweight and dehydrated, is now recovering at the Cats Protection centre in Bridgend.
The kitten, who is thought to be a stray, could be heard meowing but, despite repeated searches, could not be found.
It was not until Tuesday 11 September that Mrs Roberts traced the plaintive cries to her car engine.
Mr Roberts, a car mechanic, spent more than an hour with four neighbours rescuing Shell.
"The last incident involving a cat trapped in an engine several years ago didn't have a happy ending as the cat didn't survive his injuries," he said.
"It's great to have been involved with my wife in the rescue of this little kitten".
Sue Dobbs from the Cats Protection centre, said: "Shell is very fortunate to have survived her ordeal.
"She was terrified, dehydrated and underweight when admitted to the centre, however, a warm bath, lots of TLC and she is well on the way to recovery."
Related Internet Links
The BBC is not responsible for the content of external sites.