Heads of the Valleys walking and cycle path completed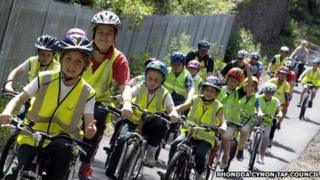 A new seven-mile (11km) walking and cycle path linking Merthyr Tydfil and Pontwalby in the Neath Valley has been completed.
The £500,000 path took four years to build and is the final part of the Rhondda Cynon Taf section of the Heads of the Valleys cycle route.
Transport group Sustrans said it hoped the route would attract tourists to the area and boost local businesses.
It was funded by the Welsh government via the Heads of the Valleys programme.
Rachel Lister, project manager for Sustrans, said the path was a "fantastic facility" and formed part of a "great leisure route across the valleys".
"This route has been a long-held ambition by Sustrans and other partners, so to see the completion of the Rhondda Cynon Taf section of the Heads of the Valleys cycle route is a major milestone," she added.
Sustrans worked with Rhondda Cynon Taf council to complete the path, which forms part of the 13,000 mile (21,000km) UK-wide National Cycle Network and is known as Route 46: Heads of the Valleys.
Councillor Andrew Morgan, cabinet member for frontline services at the council, said the path would allow residents to "enjoy the peace and tranquillity" of the area's natural surroundings.
He said: "The cycle routes help stimulate economic regeneration through tourism, provide a practical way of addressing the challenge of climate change as well as increasing the health and well-being of our communities."