Parc Prison family wing praised for tackling crime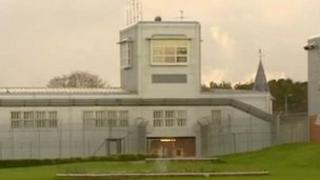 A former South Wales Police chief constable has praised a prison "family wing" for aiming to stop reoffending.
Barbara Wilding said the Parc Prison family intervention unit (FIU) was designed to treat the needs of the entire family, and not just the inmate.
The wing is solely occupied by 60 male prisoners, but they must cook, clean and attend homework club with their children, who go into the prison.
The £4.4m project was backed by the Big Lottery Fund and Bridgend council.
It aims to bring families together, reduce reoffending, prevent criminal habits being passed down the generations, and give the prisoners a greater sense of community.
Ms Wilding said: "I believe it will work and it will show that if you do this, down the line you are preventing people coming back [to prison].
"You're saving money down the line. And you are also starting to move the family off dependency and benefits, which again saves money.
"It's a different way of working and how you distribute money."
The unit is used by long-term prisoners who are in and out of jail.
Inmates have to work very hard to secure a place, according to Ms Wilding.
The men have to be drug and alcohol free, attend courses and commit to working with their families.
Ms Wilding said the unit was aimed at helping "complex families" who are affected every time the father goes back to prison.
Parc Prison was awarded £3.4m and the council received nearly £1m from the Big Lottery Fund to use over the next five years.
The prison also has an academic team.
G4S, which runs the prison, is planning to roll the project out to other prisons.
Sir Adrian Webb, chairman of the Big Lottery Fund Wales, said the project will mean intensive support given to prisoners and their families.
"Prevention is better and cheaper than cure and there is a growing body of evidence that if preventative interventions are effective, we can all spend less money on services such as prisons, acute medical care and drug rehabilitation," he said.