Cwmbran fire: Police receive extra 36 hours to question man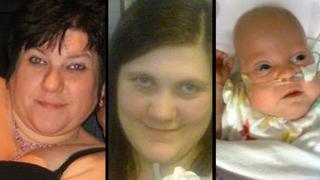 Police have been granted a further 36 hours to question a man after three members of a family died in a house fire in Cwmbran, Torfaen.
Kim Buckley, 46, daughter Kayleigh, 17, and six-month-old grand-daughter Kimberley died on the Coed Eva estate.
A 27-year-old man from the Manchester area was arrested shortly after the fire in the early hours of Tuesday and is being held on suspicion of murder.
A candlelight vigil is due to take place on Friday evening.
It will be at St Gabriel's parish church in Old Cwmbran between 18:00 and 19:00 BST. A book of condolence will also be opened.
Father Michael Phillips, Rector of Cwmbran, said: "There is a profound sense of shock, loss and sadness evident across Wales and the UK, but especially here in Cwmbran, at this terrible happening, affecting three generations of one family, through the death of Kim, Kayleigh and Kimberley Buckley.
'Practical support'
The Bishop of Monmouth, Rt Revd Dominic Walker added: "Words are inadequate at such a time but I want the community to know that the church is there and cares for them.
"I hope this will be a practical support for them in their grieving."
Gwent Police said officers are continuing to investigate the cause and the circumstances surrounding the fire.
Caerphilly Magistrates Court granted the force extra time on Thursday to question the suspect.
Police have said neighbours tried to save the family but were beaten back by flames.
Friends of the Buckley family have spoken of their shock at their loss.
Teacher Rachel Speed, from Fairwater High School which Kayleigh attended, said she was remembered fondly there.
Speaking on Wednesday, she said: "It was devastating today. Absolute travesty. Not just for the pupils and the staff but for the wider community as well.
"Even pupils who didn't know her particularly well have been traumatised by it. They've been offered counselling within the school."
Terena Mellor, 26, a friend of Kim Buckley, described her as "a character, very loud and fun-loving".
"If she saw you on the other side of the road she would have shouted out your name and asked you how you were," she said following the fire.
Ms Mellor said she believed daughter Kayleigh had been pregnant with twin daughters but had tragically lost one in birth.
'Difficult to believe'
The surviving daughter, Kimberley, had only recently been allowed home after spending time in intensive care at the Royal Gwent Hospital, in Newport.
Ms Mellor added: "This is such a tragedy. Kim and Kayleigh were very close and this should have been a happy time for everyone in the family.
"It is difficult to believe what has happened."
Police have referred the case to the Independent Police Complaints Commission (IPCC) as officers had been called to the address on other occasions.
Firefighters were called to the fire scene at around 03:30 BST on Tuesday.
Gwent Police said any witnesses should contact police on 101 or Crimestoppers on 0800 555 111.