Barry docks pumping house on sale for development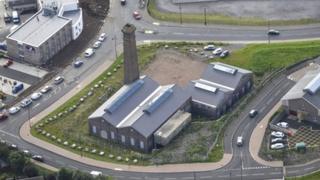 A Victorian dock building is being put up for sale as its council owners seek a new use for the landmark.
The Grade II listed hydraulic pumping house in Barry is one of the few surviving buildings of its kind.
The 1880s pumping house has had a £1.4m refurbishment paid for by the Vale of Glamorgan council and Welsh government.
Council leaders are inviting what they call "imaginative and financially sustainable" bids to bring the waterfront building back into use.
'Unusual' opportunity
The pumping house with its 42m high chimney historically formed part of Barry docks built in the 1880s in response to the growing coal trade.
It provided hydraulic power to operate coal drops, lock gates, swing bridges and other equipment around the docks.
Listed in 1992, the pumping house is now being put on the market for the first time.
The Vale of Glamorgan council says the historic building has a prominent place in Barry's 19 acre (7.7ha) Innovation Quarter, already home to a business centre, IT training centre and medical centre.
A hotel and pub/restaurant development opposite the site is due to open later in 2012.
Cardiff-based estate agents Savills, who are handling the sale, described the pumping house as "an interesting and unusual redevelopment opportunity".
The council said the 1.3 acre (0.5ha) site had a range of possible uses, from business to community and leisure activities.
Council leader Neil Moore said: "It is a remarkable historic building and an important local landmark in a central area within the waterfront.
"The council is keen to receive a wide range of imaginative and financially sustainable bids for the property, whether from the community or from the commercial sector, in order to bring the property back into use."
Liz Burnett, the Vale of Glamorgan's cabinet member for regeneration, stressed they were keen to have a process where people could submit interesting ideas for the building before drawing up a detailed business plan.
"We'd love it to come to some positive benefit to the local community," she said.
"It's one of those buildings that captures the imagination.
"Hopefully we've structured the process in a way where anyone with innovative ideas won't be daunted in coming forward."