Elvis Festival: Porthcawl claims most Elvises record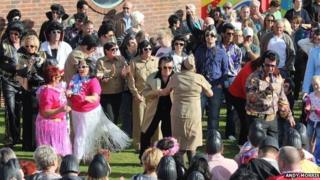 A seaside resort claims to have broken the record for the biggest gathering of Elvis Presley impersonators.
Organisers of the annual Elvis festival in Porthcawl, south Wales, claimed a headcount of 814 fans dressed as the king of rock'n'roll.
The record is officially held by 645 Nike employees at a sales convention in Las Vegas in November 2010.
More than 30,000 revellers are expected to attend the festival in Porthcawl, which runs until Monday.
Organisers of the celebration claim it is the largest Elvis event in Europe.
The festival, which was first staged nine years ago, is being held at Trecco Bay Holiday Park.
Elvis 'Ashes'
Saturday's record bid was led by Darren "Graceland" Jones, 40, from Cwmbran, who recently beat 13 contenders to be named best Elvis impersonator in Wales.
Festival organiser Peter Phillips said he was "overwhelmed and thrilled" to break the record for the biggest gathering of Elvises, although it has not been officially verified.
Mr Phillips said: "We asked staff from Bridgend council to act as independent adjudicators and they worked together to count the Elvis impersonators.
"We had all sorts of different Elvises aged from three to 80 and from the UK, Ireland, Germany, Malta and even Brazil.
"They were wearing all manner of Elvis costumes from gold lame jackets, to leather jump suits and GI uniforms."
Mr Phillips said the Parkes Elvis Festival in Australia also organised gatherings of Elvis impersonators, and he laid down a challenge to its organisers.
"Now we've got this record, we're calling on the Parkes festival to try and beat it. We're going to call it the Elvis Ashes," joked Mr Phillips.
The weekend also includes a search for the best Elvis of the 2012 festival at the town's Grand Pavilion theatre.
The winner will receive a crown and return to headline next year's festival.
The festival also includes the Elvies, a prestigious award show for Elvis tribute artists.
Last week Porthcawl was transported back in time to the 1950s with a new Welsh Rockabilly Fair.
Inspired by the legendary Coney Island Rockabilly Festival in New York, it merged 1950s-style Americana sounds with a burlesque sideshow.
Organisers were hoping it would become just as popular as the Elvis Festival.