Cryptosporidiosis: Pool hygiene call after bug rises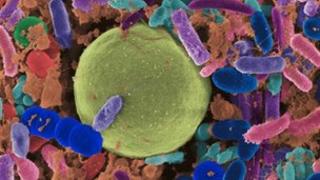 Swimmers are being urged to adopt better pool hygiene after a rise in cases of the water-borne bug cryptosporidium.
Public Health Wales (PHW) says it had 283 confirmed cases by the end of September, compared to 248 for the whole of 2011.
It recommends showering before entering the pool and not swimming for 48 hours after having diarrhoea.
Last month, 20 people were infected after swimming at a pool in Newport.
The Newport Centre's Swimming Pool was closed for six weeks and cost thousands of pounds to clean.
Although cryptosporidium can also be picked-up from unclean drinking water, eating contaminated food or through other contact with faeces, PHW believes much of this year's rise can be linked to swimming pool use.
Dr Rachel Chalmers, head of PHW's Cryptosporidium Reference Unit, said: "Swimming is an enjoyable activity with many health benefits, but care needs to be taken to prevent water-borne illness such as diarrhoea caused by cryptosporidium infection.
"Swimmers' behaviour is just one of the ways of helping to keep pools clean."
The organisation says people diagnosed with cryptosporidiosis should not swim for 14 days after their symptoms have ceased.
Other advice includes not swimming while suffering from diarrhoea and waiting for 48 hours after symptoms have ended before returning to the pool.
Swimmers should also not swallow pool water and ensure young children use the toilet before entering pools.
Dr Chalmers said cryptosporidium could survive chlorine in pools, and stressed the need to shower with soap before use.