Cardiff hit-and-runs: Eye witnesses describe chaos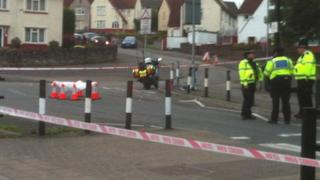 Eye witnesses have described chaotic scenes as a van targeted pedestrians in a series of hit-and-runs in Cardiff.
One woman was killed and 12 other people injured in collisions across the west of the city, from Ely to Leckwith.
Many people, some picking up children on the Friday afternoon school run, said they were horrified. A 31-year-old man was later arrested on suspicion of murder.
Police first received reports of an incident at about 15:30 BST on Friday.
Ely sub-postmaster Shady Taha, 29, had just served two girls and a young woman moments before a hit-and-run outside a row of shops in Grand Avenue.
He said the two girls - aged about 10, and a woman in her mid-20s - had been browsing the birthday cards in the store before purchasing a jar of coffee and leaving.
"All of a sudden I heard a bang. I looked out and across the road - one girl was on the floor and the other girl was screaming."
He added: "I heard a van speed off but I did not see it."
Part of Grand Avenue opposite Red House Crescent was closed off outside the post office.
Stuart Bateman said he saw a hit-and-run outside Ely fire station at about 15:35 BST.
"Two kids and a lady were hit. I was on the bus and I saw the van reversing and speeding off," he said.
"People started shouting and many jumped out of the bus. I made a 999 call and informed police about which way the van drove off.
"When I got off I saw one quick response car already parked there which was helping the people on the ground."
'Pretty chaotic'
Jess Alexander heard screaming and looked out of the window to see "two little boys on the road outside my house".
"One little lad and his mum were screaming - the lad holding his arm, he was in obvious pain," she said.
"The other little lad was in the recovery position laying on the ground.
"The woman, whom I'm presuming was their mum, sat on the ground comforting the lad with the broken arm.
"Police raced over on foot from the police station and it all and got pretty chaotic."
She said six ambulances arrived and "eventually they got the little boy into temporary splints on his legs, neck and back and then they carried him off on a stretcher into the ambulance".
"All the time this was going on there were police everywhere. Helicopters, police bikes the lot. You just knew this was out if the ordinary," she said.
There were reports of injured pedestrians in other areas of the city, including Cowbridge Road West and the retail park next to Cardiff City Stadium.
'Awful sight'
Sarah Pryor said she was lucky not to be hit by a white van which jumped a red light at speed at Leckwith.
"I drove off and then had the misfortune of seeing the two ladies who had been knocked down in the Leckwith shopping centre," she said.
"It was an awful sight. I had a small girl in the car, I had to distract her and point at something away.
"There was no ambulance yet, just people gathering around and making phone calls. I hope those women will be fine."
Dr Elizabeth Haywood, who is married to Peter Hain MP, was at the retail park when she saw a van run over the two women.
She said it happened by the Asda garage at the edge of the retail park.
"I called the ambulance and several people went over to try to help them but they were very badly injured," she said.
Angharad Davies told BBC Radio Wales she saw a man chasing a van at Leckwith and asking people to stop it.
She said she had just picked up her two-and-a-half-year-old daughter from nursery and had her baby with her too. They were heading for a coffee.
"I saw a van and there was a man chasing it and asking people to stop the van," she said.
"I thought it was just a bit of road rage."
She said she then saw what she thought was a nasty accident.
"There were police there and it was cordoned off."
She said it was only when she got home and heard the news that she realised what she had witnessed.