Vodafone: Cwmbran Mobile phone signal blocked by trees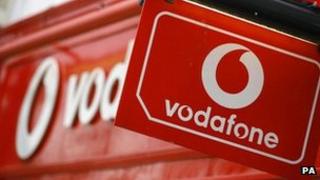 A phone company has blamed signal problems for customers in a south Wales town on quick growing "tall evergreens" in a nearby Christmas tree farm.
Dozens of people in Cwmbran, Torfaen, have messaged Vodafone's online forum to complain about reception.
A manager responded: "Trees at a local Christmas tree farm have grown so high they are now affecting the line of sight between masts."
Vodafone is ordering a temporary transmitter to alleviate the problem.
The company said the wet summer had led to reception problems caused by tree growth.
A spokesperson for the firm later said the trees suspected of causing the signal problems were not Christmas trees as such but "tall evergreens, tall enough to block the signal".
Earlier, a Vodafone spokeswoman said the trees were likely to be 10m-12m (33ft-39ft) high, and much taller than those people would buy to put in their homes.
She added: "They are not the sort of Christmas trees that most people would purchase for home but they do sell Christmas trees from the site."
Vodafone has told customers the trees, sited several miles to the east of the town, are affecting the microwave radio link shared between two "cell sites" which connect to a transmitter.
On the website forum, a community manager named only as Tom told customers: "Unfortunately we're not able to prune these trees and so need to find another way to get your coverage back.
"We've found a solution but this may take a few weeks.
"While we work on this, we're looking at utilising a temporary mast so we can get things back to normal sooner rather than later."
'Santa' blamed
The posting has prompted a number of angry and sarcastic comments.
One customer wrote: "Do you realise how pathetic that sounds. Santa now gets the blame. Hope he doesn't knock over any masts when his reindeer flies overhead!
Another wrote: "There is no Christmas tree farm in Cwmbran town centre."
A third wrote: "Do you expect us to wait until the trees are cut for Christmas?"
Craig Hopkins, 36, of Croesyceiliog, said he had ended his contract with Vodafone over the phone signal problems but his wife, mother and two children were still on the network.
He said: "It means that I can't contact my kids when they are out and about."
Vodafone added that it had ordered a replacement temporary mast.
A spokeswoman said: "Unfortunately due to the size required we've had to source this from overseas.
"It is expected to arrive by the end of this week and we will be installing it as soon as we can."