Cardiff hit-and-runs: One woman dead, 12 injured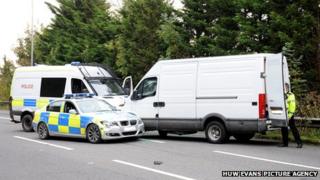 A 32-year-old woman has died and 12 other people, seven of them children, have been injured in a series of hit-and-runs in Cardiff.
The casualties are being treated at the city's University Hospital of Wales.
A 31-year-old man has been arrested on suspicion of murder after South Wales Police stopped a van on the outskirts of the city.
Eyewitnesses have said pedestrians were deliberately targeted by someone driving a van in five locations.
The dead woman has been named locally as Karina Menzies.
Supt Julian Williams gave more details about the hit-and-runs at a news conference.
The arrested man was detained by officers near the Merrie Harrier pub at Llandough on the outskirts of Cardiff.
Police would not confirm at which point they began to pursue the suspect's vehicle, a white Iveco transit-type van.
The A&E department at the University Hospital of Wales was initially shut to anyone not involved in the incident but has since reopened.
However, people with non-emergency conditions have been asked to stay away.
Dr Grahame Shortland, medical director at the hospital, said those being treated mostly had fractures and head injuries.
One person has been discharged.
'Girl screaming'
The drama began when police received calls about an incident in Crossways Road in Ely at 15:30 BST.
There were soon reports of hit-and-run collisions in several locations in the west of the city: Grand Avenue, Cowbridge Road West, Sloper Road and near Asda at Leckwith Retail Park.
Ely sub-postmaster Shady Taha, 29, had just served two girls and a young woman moments before one of the hit-and-runs in Grand Avenue, immediately outside a row of shops.
He said the two girls aged about 10 and a woman in her mid-20s had been browsing the birthday cards in the store before buying a jar of coffee and leaving.
He said: "All of a sudden I heard a bang. I looked out and across the road one girl was on the floor and the other girl was screaming.
"I heard a van speed off but I did not see it."
Mr Taha and his assistant phoned the emergency services and said it took a while for the ambulance to arrive. He added: "Now we know why."
Lynda Paterson, who lives on Cowbridge Road West, said the scene outside her house was chaotic.
"I was going to pick my children up from school and I could see there were police and someone was lying on the floor, on the pavement," she said.
"I could see police running back and forth along the road and I now know there was a child... who had been hit.
Forensic teams
"The police were running down because the ambulance hadn't come."
Cardiff West MP Kevin Brennan told BBC Wales that it sounded like a "tragic incident and my heart goes out to the victims".
The Reverend Jan Gould has opened up the Church of the Resurrection on Grand Avenue to help offer comfort to the community.
Meanwhile, there was a high police presence at several locations in the west of the city, including Crossways Road, Cowbridge Road West, Grand Avenue and Sloper Road.
Ely Fire Station was sealed off with forensic teams working around there.
Supt Julian Williams, of South Wales Police, said: "This is a tragic incident that has affected a large number of people, and we thank the people of Cardiff for their help and support.
"Incidents like this are extremely rare here, as they are across south Wales, and we want to reassure the public that a significant number of officers are working on the investigation, including a number of specialist resources."
Leckwith Retail Park - which is next to the Cardiff City Stadium, home of Cardiff City FC - was closed, and ambulances and a helicopter were at the scene.
The A4160 Penarth Road in Llandough was also closed which caused delays in the area.
There were reports of traffic chaos in several locations and motorists were advised to avoid the area.
Hailie Jacobs, from Ely, witnessed the aftermath in her area when taking her son home from school.
"I noticed all the police and ambulance first. They'd taped off the road in various parts," she said.
"Some of it was absolutely manic and there was a paramedic working on someone on the ground.
"There were just loads of ambulances and police cars and even two helicopters above.
"It was all quite scary, we live near there and it's all places where I walk my children."