Monmouth Leisure Centre wall collapse boy critically injured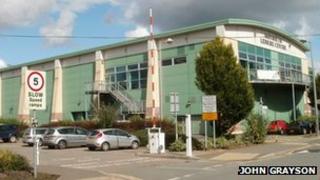 An investigation is taking place after a 15-year-old boy was critically injured when a wall collapsed at a leisure centre.
Fire crews took an hour to release Daniel Morgan from the partition wall at Monmouth Leisure Centre.
The incident happened in the changing rooms on Tuesday before a games lesson.
Monmouthshire Council said the centre was regularly maintained but it had ordered a "thorough test" of leisure facilities.
The teenager, from Monmouth Comprehensive, was said to be in a critical but stable condition.
He was being treated at Nevill Hall Hospital, Abergavenny, before being transferred to the University Hospital of Wales in Cardiff on Wednesday morning.
Monmouth Comprehensive head teacher Vaughan Davies said an assembly had been held on Wednesday morning to bring the school together.
"The student is responding to treatment and our thoughts are with the student and the family," he said.
"This morning we've met with students in the same year group and we've supported them and spoken to them.
"They've showed wonderful support for the student, they've all been brilliant.
"He's a wonderful student at our school... he's a wonderful, charismatic individual who is much loved and highly regarded across the community.
"We've all come together and had an assembly this morning to bring everybody together and support him."
Monmouthshire council said the breeze block wall was a 1.8m high (5.9ft) partition in the male "dry" changing room, used for sports other than swimming.
It said the centre is only 12 years old and was subject to a full structural survey three years ago.
"It is regularly maintained and we had no concerns about a maintenance backlog or any on-going problems with the centre," the council added.
"Following the accident we have conducted a thorough test of the leisure centre and the county's three other leisure facilities.
"No problems have been identified and the type of wall does not appear in any of our other leisure centres."
'Support offered'
Monmouthshire council leader Peter Fox said: "Clearly we will do all we need to do to understand the background to this.
"Any other young people who were present will obviously be offered any support they might need, and clearly the head teacher along with our education department will be dealing with that side of things."
He said the local authority's main thoughts were with the injured student and his family.
South Wales Fire and Rescue Service said it sent officers to the leisure centre where they "released a 15-year-old boy from a concrete block partition wall".
The Health and Safety Executive said it was aware of the incident and was making initial inquiries.