South Sebastopol housing plan revived by Torfaen council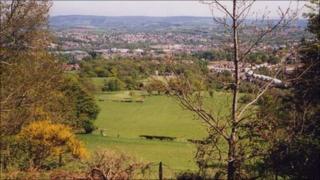 Controversial plans to build homes on a greenfield site near Pontypool which were scrapped in March are back on the agenda after the council put the proposal back into the local plan.
Councillors reversed a decision which had taken South Sebastopol out of consideration for future development.
They had been meeting to discuss whether the whole local development plan (LDP) should be withdrawn.
Local campaigners raised objections on traffic, wildlife and other issues.
The site, known as the South Sebastopol strategic area, is on former farmland.
A proposal by a consortium led by Barratt Homes for 1,200 properties was previously rejected by the council.
'Long term vision'
The extraordinary meeting on Tuesday had been called to discuss a recommendation by the planning inspector to withdraw the LDP because of the council's decision to remove South Sebastopol from the plan.
Council leader Bob Wellington said: "The decision to reinstate the south Sebastopol site has long term regeneration implications which clearly benefit the whole borough.
"A council without an approved LDP is a council without a long term vision for the area.
"A lack of clarity on land use in the borough could damage the council's reputation with developers and investors as a place to do business and makes the borough less attractive for other major developments."
He said house building would be the single biggest influence on the borough's economy for the foreseeable future.
The proposed South Sebastopol development would include up to 1,200 homes, a village centre, green transport links, sport pitches and changing facilities, play areas, and cycle and leisure trails, the council said.