Black football players: Gary Bennett's 'split' warning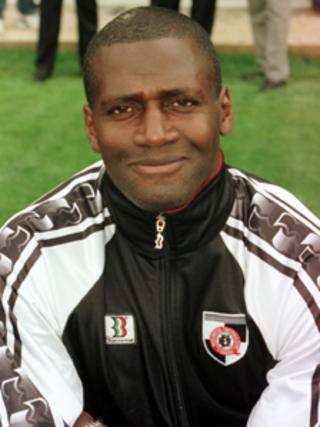 Former Cardiff City star Gary Bennett says he opposes the idea of a breakaway black football players association as he prepares to take part in a match to promote an anti-racism charity.
Chris Coleman and Andy Legg are among those playing in the game at Newport for Show Racism The Red Card (SRtRC).
The game comes as divisions emerge among black footballers on how to respond to racism on and off the pitch.
Bennett, head coach of one team, said: "I believe we need to work as one".
He added: "If we start to break away, then you start creating divisions."
Players in the SRtRC/FAW game include Wales football manager Chris Coleman, Wales rugby internationals Nathan Brew and Lee Jarvis, ex-Bluebirds Andy Legg and Roger Gibbins, and Wales women's football internationals Gwennan Harries, Loren Dykes and Natasha Harding.
Bennett, who is head coach of the SRtRC team, has championed the educational charity since its founding in the north east of England in 1996, while he was at Scarborough.
He became a patron of SRtRC while player-coach at Darlington and has worked alongside another anti-racism charity, Kick It Out.
More than 30 players refused to wear T-shirts supporting the Kick It Out anti-racism campaign last weekend to protest at a perceived lack of progress.
Bennett was sympathetic to the players' frustration with the Professional Footballers Association (PFA), but praised the work of Kick It Out.
He said: "I would most likely have worn a T-shirt. What they are doing is good job.
"Certain individuals or players have been trying to get the PFA to act, and they haven't done.
Monkey chants
"It's only now, that there's talk of a breakaway, that [the PFA] have come up with this six-point action plan.
"It's not a case of it's just happened overnight. Because [some players] have themselves heard, you are suddenly getting certain groups to do what they are trying to achieve."
But Bennett is against black players forming their own separate association.
He said: "If you are going to have a black players association, is that the start of a division where white people can't join?
"Can only black people join? If you don't join, are you going to be outcast? You start creating more problems by doing that."
Bennett said English football had made real progress since he was a player but there was no room for complacency when tackling racist abuse such as monkey chants.
He said: "In the 70s and 80s it was done on the terraces on a weekly basis. If you ask kids [up the age of 10] about monkey chanting, they will raise their eyebrows. They don't understand what it is.
"We have made great strides in the country in tackling the issue but it has raised its head again in Serbia [at a recent England under-21 game].
"You cannot be complacent. You have got to keep on top of it on a daily basis. The minute you take your foot off, then that's when you start to get problems."
The SRtRC game against a FAW side kicks off at Spytty Park, Newport, at 19:30 BST on Friday.