Cardiff hit-and-runs: Craig Bellamy's £4,000 for fund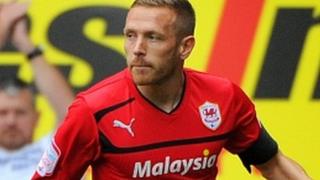 Cardiff City striker Craig Bellamy is to match a £4,000 fans' collection for the children of a woman killed in a series of hit-and-runs.
Karina Menzies, 31, died and 13 adults and children were injured in collisions across west Cardiff last Friday.
The Cardiff-born player's pledge came after £4,155 was raised at his club's game against Watford on Tuesday.
The club said they would also donate £1,690 towards the collection, making the total £10,000.
Meanwhile, Ms Menzies's sister Samantha and some members of the fundraising committee will attend City's home match against Burnley on Saturday.
The donations by Bellamy and the club come after actors Hugh Grant, Sir Ian McKellen and Frances Barber helped raise £5,000 for Ms Menzies's children.
Grant bid to win a lunch with Sir Ian and Barber at a Labour Party fundraising dinner.
Cardiff City spokesman Barrie McAuliffe said: "Cardiff City staff this week confirmed the match-day collection total of £4,155 from supporters attending the Watford game on Tuesday night, which is a credit to those who gave so kindly.
"The club are further honoured to add to the total raised thanks to two very generous individuals indeed.
"Craig Bellamy, as pledged, is matching the funds raised on Tuesday night as a personal commitment to his local links.
"Cardiff City principal investor Tan Sri Vincent Tan has also confirmed his wish to see the total funds raised that night reach £10,000 on behalf of the club, recognising our place and responsibilities within the wider community."
Mr McAuliffe added: "On Saturday afternoon Karina's sister Samantha Menzies and guests, some members of the fundraising committee will be joining us at Cardiff City Stadium.
Raising money
"We are sure all supporters who have yet to donate to the funds raised will do so in coming days and weeks via the official charity once registered."
Ms Menzies died after being hit by a van while walking with two of her young daughters near Ely fire station on Cowbridge Road West.
Since then, the local community has been raising money to help her three children.
Matthew Tvrdon, 31, has appeared in court accused of murder, attempted murder and assault.
He faces a total of 19 charges, including murder, 13 counts of attempted murder, four counts of assault occasioning actual bodily harm, and one charge of dangerous driving.
He appeared at Newport Crown Court via video link on Tuesday and was remanded in custody to appear at crown court for a plea hearing on 28 January.