Jacqui Howell wins £333,333 on People's Postcode Lottery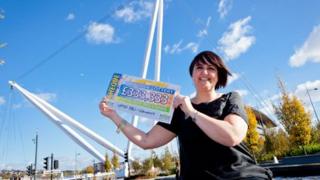 A newly-qualified nurse who starts her new job next week has won £333,333 on the People's Postcode Lottery.
Jacqui Howell, 41, from Newport, says she will treat her family to a holiday in Kenya where she and husband Dave married 12 years ago.
The two other people getting £333,333 for the winning postcode have chosen to remain anonymous.
Another 39 players in the Maesglas area of Newport won between £3,130 and £62,600 each in the £2m prize fund.
Tight budget
Mrs Howell, a mother of four who qualified as a nurse only recently, said the money means she will be able to reduce the extra hours she expected to work at her new job at a learning disability home.
She said: "It's a new life for us.
"I can't tell you how difficult the last few years have been for us all while I was studying at university.
"Money has been so tight, and the kids have gone without, so now I will be able to spoil my family, cut down my extra hours and be at home more often."
Her 43-year-old husband, who is a deputy manager at homeless hostel Solas in Newport, described his wife as "Wonderwoman".
He said: "For the last five years, she has been working night shifts at the local nursing bank, then going to university and studying for the day, before coming home and being a mum."
The couple have four daughters, Lara, 17, Gabrielle, 14, Sienna, seven and Freya, seven.
Mrs Howell said: "We haven't had a beach holiday for seven years, so we would love to take the girls to Kenya, where Dave and I got married 12 years ago.
Mr Howell added: "It was our anniversary two days ago, and we had no money to celebrate it.
"This win changes everything. Every day is a struggle at the moment. Now we can pay off our mortgage, and all our debts."
Mrs Howell was one of three people playing in the full winning postcode to each walk away with cheques of £333,333.
In total, 42 residents shared a £2m prize fund.
It is the second time the People's Postcode Lottery has been won in Wales in the last six months.
In April, Port Talbot student nurse Lauren Teesdale, 22, and her grandmother, Sylvia Pask, 70, won £400,000 between them.