Cardiff hit-and-runs: Karina Menzies' funeral announced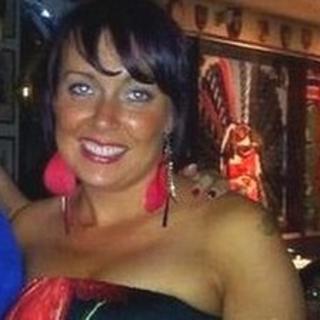 The funeral of a woman killed in a series of hit-and-runs in Cardiff will be held on Friday, 9 November.
Karina Menzies' body will be taken by horse-drawn carriage from her home in the Ely area to the Church of the Resurrection on nearby Grand Avenue.
A sound system will broadcast the service, which starts at 13:00 GMT.
Ms Menzies, 31, died and 13 children and adults were injured in collisions across west Cardiff on 19 October. A man is facing murder and other charges.
Organisers say all are welcome at the funeral of Ms Menzies, a mother of three, who died while walking with two of her daughters near Ely fire station on Cowbridge Road West.
Trust funds
After the church service her body will be taken to Western Cemetery on Cowbridge Road West for burial at 14:30 GMT.
There will be a collection at the service to raise money for two trust funds that have been set up.
One is for Ms Menzies' children and another for the other victims, including her children.
A book of condolence has opened at the Roy J Larcombe Funeral Home on Cowbridge Road West, which is available to sign between 10:00 and 16:00 GMT from Monday to Friday.
Matthew Tvrdon, 31, has appeared in court accused of murder, attempted murder and assault.
He faces a total of 19 charges, including murder, 13 counts of attempted murder, four counts of assault occasioning actual bodily harm, and one charge of dangerous driving.