Gavin Mills jailed for life for killing Polish baker in Newport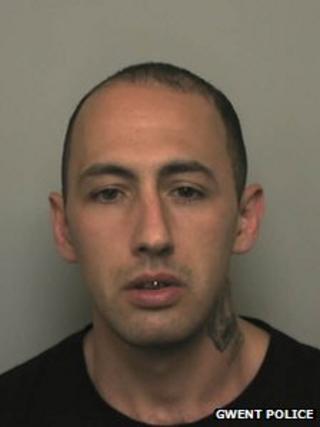 A man has been jailed for life for the murder of a Polish baker he punched, kicked and stamped to death in Newport.
Gavin Mills, 25, attacked Jerzy Dubiniec, 60, who had arrived in Wales just a few weeks earlier.
The grandfather, who spoke no English, was attacked on his way home from a night shift in Pill in August 2011.
The Crown Prosecution Service (CPS) described it as a brutal attack on an innocent victim. Mills was sentenced after changing his plea to guilty.
He was convicted of murder on the second day of his trial at Newport Crown Court on Tuesday.
David Watts, from the CPS, said: "Gavin Mills was responsible for a brutally violent attack on an innocent victim.
"Jerzy Dubiniec was a much loved father and grandfather who was simply going about his daily business when he was senselessly attacked.
"What is beyond doubt is that Mills' actions continue to have a lasting effect on Jerzy Dubiniec's family and friends. Our thoughts are with them."
Gwent Police Det Supt Rhiannon Kirk said they were no wiser as to the motive for the murder.
"This was a complex investigation and specialist officers worked tirelessly on hundreds of lines of enquiries to establish what happened the night Jerzy was killed," she said.
"It was a dreadful incident that resulted in Jerzy Dubiniec losing his life in such a senseless and tragic way.
"It is still not clear what the motive was but what is clear is that Jerzy - an innocent, decent and hard working man - didn't deserve to die the way he did.
"While the conviction and sentence of Gavin Mills brings to an end one chapter, and while we hope it provides some closure for Jerzy's family, our thoughts and sympathies remain with them as they rebuild their lives."