Welsh language road sign errors in translation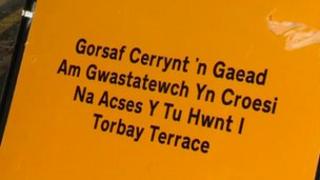 A Welsh language road sign in the Vale of Glamorgan urges drivers to "follow the entertainment" rather than take a diversion.
The translation uses the word "adloniant" which only means diversion in terms of a pastime or hobby.
The signs put up in Rhoose by Network Rail contractors also use the non-existent word "acses" to mean access.
A Network Rail spokesperson said it had not commissioned the signs and is investigating.
"I've told everyone who's inquired that we're looking into it, and if there's been a genuine mistake then we'll fix it," said the Network Rail spokesperson.
'Lack of respect'
It is the latest in a long line of translation blunders in Welsh.
Examples include a sign erected in Swansea that was supposed to read: "No entry for heavy goods vehicles. Residential site only".
Instead, the message read: "I'm not in the office at the moment. Send any work to be translated".
Vale of Glamorgan Plaid Cymru councillor Chris Franks said the latest errors indicated a lack of respect for the Welsh language, and reflected poorly on those companies and individuals responsible for the mistakes.
"I think the current bilingual legislation is strong enough, and you couldn't really draft a law which would prevent these things from happening," he said.
"You'd just hope that the companies and authorities involved would take more pride in their professionalism, as ultimately they're the ones who end up looking silly."
"It's disappointing that these contractors failed to take adequate care; it does indicate a lack of respect for the language."