Kyle Griffith murdered days after reunion with father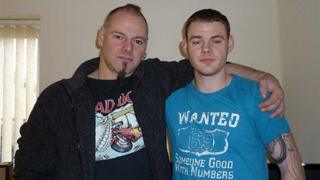 A father has told how he was reunited with his son after 22 years apart, just six days before he was murdered by a hit-and-run driver in Cardiff.
Paul Griffith, 46, hugged Kyle, 25, in January for the first time since splitting up with his son's mother.
Days later, Stephen Freye, 22 - who had snorted 70 lines of cocaine - drove at Kyle and killed him as he walked home.
Mr Griffith said "no sentence is long enough" for Freye, who was jailed for life.
Describing how he and Kyle were making plans for the future after being re-united, Mr Griffith, from the hamlet of Star, Pembrokeshire, said: "I lost him once when he was three and now I've lost him a second time.
"We'd talked about him moving near me and I was jubilant at the prospect.
"I was so looking forward to us doing things as father and son."
Mr Griffith said he traced his son via Facebook, and the reunion was the only time the pair met as adults.
Kyle, a chef, of Cardiff Bay, was walking home from work in the early hours of 11 January when Freye deliberately drove into him.
Freye, a 22-year-old drug addict, of Cardiff, was found guilty of murder at Cardiff Crown Court on Tuesday and was jailed for life with a minimum term of 13 years.
The city's crown court heard that he had been in a drug-induced psychosis after snorting 70 lines of cocaine, before telling police: "I was told to kill a stranger."
Mr Griffith, a builder, said: "No sentence is long enough for what Freye did."
Mr Griffith said it took time for him and his son, a father-of-two, to see eye to eye.
He added: "At first it was a little bit fiery, which was understandable given the time which had passed, but then we finally met up.
"Then just days later he was killed."