Cardiff hit-and-runs: Karina Menzies' sister raises her girls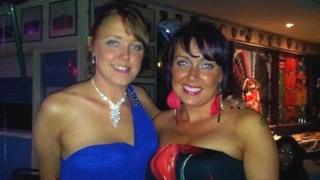 The sister of Karina Menzies, who was killed during a series of hit-and-runs in Cardiff, has vowed to bring up the mother-of-three's children.
Karina Menzies, 31, from the Ely area of the city, died while walking with two of her daughters.
Samantha Menzies, 26, says the girls, aged 11, eight and two, are "doing really well" and she will love them as much as her sister wanted.
A 31-year-old man has been charged with murder and other offences.
Thirteen adults and children were injured in collisions in Ely and nearby Leckwith last month.
Ms Menzies, a single parent, had been on the school run with her two younger daughters, Ellie, eight, and Tiana, two, when she was killed outside Ely fire station.
Her eldest daughter Sophie, who has a degenerative muscle disease, Charcot-Marie-Tooth, was on holiday in Florida at the time.
"I had to tell those beautiful girls their loving mum was dead. I just hope I can be as good a mum to them as Karina was," she said.
"I look at them and think of what they've lost - it just makes me want to carry on even more."
'They're strong'
She added: "I wouldn't see it any other way - I used to have them all on the weekend. I've got a really good relationship with them, it was a no brainer."
She said the children were coping well and the two youngest were recovering from their injuries.
"The children are doing really well. They're so strong, stronger than people know. They're doing the best they can in a situation like this," she said.
"The middle child Ellie had minor head injuries - she's ok.
"The baby still has a broken leg and a fractured pelvis but she's on the mend, she's doing well, she's got her voice back."
The nursery nurse and her partner Lee, 40, already have custody of his three children aged 16, 13 and 11 from a previous relationship.
Now with her three nieces there will be six children to care for at their three-bedroom terraced house in Ely.
Trust funds
"My own dreams are on hold, my sister's children are now my priority," Ms Menzies said.
"It's changed things, we still want to get married but I don't want children now, I've got six.
"It's been crazy - we've moved furniture in and out, we've got bunk beds up to the ceiling, it's been a bit of a whirlwind but we're getting there slowly.
"The council has agreed to either move us or extend our house - everyone has been really helpful."
She added: "The girls have so much grieving to do. Anything can set them off, it breaks my heart.
"I'd like my sister remembered as the fun-loving crazy person she was, she made everyone smile.
"I just want everyone to remember what a great mum she was, remember what she did for her children.
Two trust funds have been set up by the local community - one for Ms Menzies' daughters and another for all the victims of the hit-and-runs.
Matthew Tvrdon, 31, has appeared in court accused of murder, attempted murder and assault. He faces a total of 19 charges, including murder, 13 counts of attempted murder, four counts of assault occasioning actual bodily harm, and one charge of dangerous driving.