Facebook examines Facefood juice bar sign in Cardiff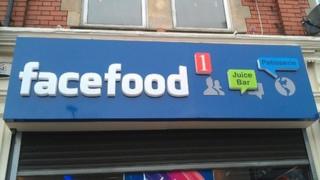 The sign outside one juice bar and patisserie in a Cardiff suburb is new, but seems strangely familiar.
That is because the shopfront of Facefood in Roath bears a striking resemblance to Facebook's logo.
The manager of Facefood said many people had been taking pictures of the distinctive facade, but confirmed his business had not approached the rather larger social network website.
Facebook has confirmed it is examining the use of the sign.
Facefood opened only this week in City Road, but pictures of its logo have already excited lots of comment on social networks, including Twitter.
One tweeter speculated on whether Facebook would be in touch with Facefood, some found its branding funny, while others wondered if it was part of a chain.
Facefood manager Samir Bougaci, who is originally from Algeria and who now lives in Cardiff, said the business had not sought permission from Facebook.
"We have not spoken with Facebook - we have not heard from them," he said.
Mr Bougaci said he and his business partner did not believe there would be ramifications as a result of adopting the design.
He said they had heard of different shops around the world along similar lines.
A quick internet search reveals a number of shops also called Facefood in different countries, such as the United States, Egypt, France, Syria and Germany which also use a similar logo.
"It's different from Facebook, it's different words," he said.
Mr Bougaci said the idea had come to them last January and developed the idea from then.
Mr Bougaci, who is also the patisserie chef and trained in Algeria and France, said: "Lots of people have been interested and they have been coming in and taking pictures."
He added: "Business has been OK. Lots of people have been coming in.
"It cost a lot of money to get everything, the signs."
A Facebook spokesman told BBC Wales: "We're looking into it," but would not comment further.
Since Facebook was founded in 2004 it has become a multibillion-dollar corporation.
Chief executive and co-founder Mark Zuckerberg reported last month that the site now has more than one billion people worldwide using it every month.