Police commissioner: Ian Johnston elected in Gwent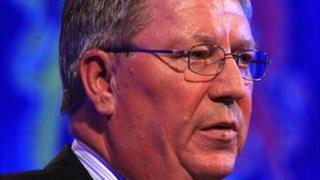 Independent candidate and former police officer Ian Johnston has been elected Gwent police and crime commissioner.
He beat Labour's Hamish Sandison in the second round of counting, becoming the second independent winner of the four Welsh posts.
Mr Johnston served Gwent Police for 33 years and then as vice-president and president of the Police Superintendents' Association.
Gwent turnout was 14%, and one Newport polling station had no voters at all.
Mr Johnston will take over the police authority's role and will be able to set the police force budget and appoint the chief constable.
Mr Johnston received 29,748 votes in total after the second count, while Mr Sandison had 24,636.
Conservative Nick Webb gained 6,630 and independent Christopher Wright had 6,118. Both were eliminated after the first round of counting.
Mr Johnston said: "I think it says a lot for the people in Gwent.
'Needs of victims'
"Number one I think, despite what other views people may have, the keeping politics out of policing message did have a part in the way people voted.
"I think the fact I'm from the county and well known in the county held sway and [also] I think my police career, despite what some people are saying about having a police officer back.
"I know policing and as a result of that, I will be able to ask the force hard questions and hold them to account and test them on the service they're providing to the people in Gwent."
Altogether, 41 PCCs are being elected in Wales and England, outside London.
Newport city council declined to name which of the 100 city polling station had no voters, but BBC Wales understands it was in the Bettws ward.
The candidates for Gwent included two former long-serving police officers standing as independents, Mr Johnston and Mr Wright.
Mr Johnston's commitments included reducing crime and anti-social disorder, to find solutions to local problems, place a greater focus on the needs of victims rather than offenders and ensure core policing functions continued to be carried out by police rather than the private sector.