Ebbw Vale memory tree to honour loved ones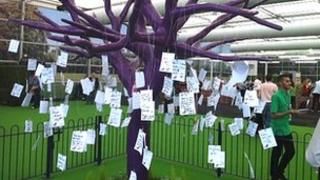 People are to decorate a Christmas tree in Ebbw Vale with messages for absent loved ones.
Decorations will be sold for £1 each and the proceeds will go to this year's Mayor's Appeal, in aid of the Hospice of the Valleys in Tredegar.
The memory tree is being launched at Ebbw Vale's General Offices on Saturday by mayor Graham Bartlett.
The building, a former steelworks headquarters, reopened last year following a £12m restoration.
General Offices manager Angharad Collins said: "There are 200 decorations, but we're hoping to sell more for the mayor's appeal.
"They have been made for our 10ft (3m) tall tree by people on work placement at a training centre. People will be able to put the name of a loved one on the decoration and hang it on the tree."
She said the memory tree was a place to capture special memories of loved ones, family or friends.
Christmas tree decorations will be available to buy until 23 December.
It is hoped the memory tree will be a permanent fixture at the General Offices every Christmas.
The Grade II* listed premises were was the administrative centre of Ebbw Vale steelworks for 90 years.
It is now home to the Gwent Archives which have been moved from Cwmbran, and also contains an interactive visitor centre and a 4D cinema.
The building has retained all of its original features, including a grand central staircase, mosaic floor tiles, fireplaces and ceilings.
An indoor Christmas market is also opening at the General Offices on Saturday.