Cardiff Somali poets in National Theatre Wales appeal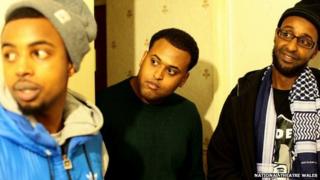 Young Somali poets in Cardiff are appealing to people in their local community to get involved in a National Theatre Wales production about them.
De Gabay (The Poem) will be staged next March and focuses on the lives of the poets in the Butetown area of the city.
National Theatre Wales said it was looking for performers, actors, dancers and wardrobe staff, paid or unpaid.
People can find out more at an event on Saturday at the Coal Exchange in Cardiff Bay at 19:30 GMT.
Inspired
The people behind the production are also looking for musicians, singers, technicians, cooks, stewards, video makers, bloggers and photographers.
A group of young poets including Ahmed Hassan, Ali Goolyad, Hassan Panero and Ahmed Yusuf approached National Theatre Wales 18 months ago with their idea for De Gabay - the song of their lives as young British-born Somali men.
Eager to change media and public perceptions of the Somali community, they were inspired by their involvement in an earlier National Theatre Wales production in Butetown, The Soul Exchange in January 2011.
In March next year they will tell their own stories of what brought them to Butetown, and what happens next.
National Theatre Wales' artistic director John McGrath said: "Butetown and its residents will play a starring role in De Gabay, so we're asking anyone and everyone in the area who want to get involved in any aspect of the production - design, performance, technical, whatever they're interested in - to get in touch now and tell us what they'd like to do.
"This is a hugely ambitious project that is very close to our hearts, and we want to share the experience of making it - and the joy of experiencing the finished product - with as many people as possible."
A string of public events are being staged to encourage and invite the local community to take part.
Saturday's event - Ideas Exchange 05: On the Road to De Gabay - will also include poetry, performance and debate.