NHS steps in over Celtic Springs Clinic weight loss procedures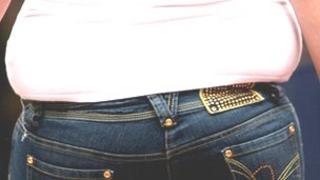 Patients needing aftercare following a weight loss procedure at a private clinic which went into administration have been told the NHS will treat them.
More than 30 people in Wales had gastric balloons fitted at Celtic Springs Clinic in Newport.
The balloons, which partially fill the stomach to reduce hunger, are not meant to remain in the stomach for longer than 12 months.
Administrators said the NHS in Wales had agreed to step in and help.
There are also nine patients in England who were affected but the NHS in England has not yet made the same commitment.
A spokesperson for administrators BM Advisory said: "[We] managed to organise that the NHS will pick it up in Wales.
"We were to talking to the necessary parties from when we were appointed as soon as we knew the clinic might have to shut.
"We've managed to make sure all the local health boards are picking up that care.
"We're still in discussions with the NHS in England."
Administrators were appointed on 25 October after the clinic, owned by Nucleus Healthcare Ltd, on Celtic Springs Business Park suffered "cash flow pressures".
The clinic, which also carried out cosmetic surgery, offered a range of weight loss procedures including fitting gastric balloons.
But patients were advised not to have the balloons for longer than 12 months.
A former employee of the clinic, who did not want to be named, said they were concerned for patients and were aware of one who still has the balloon after 14 months.
'Ongoing care'
The ex-employee said the balloons were made of a heavy plastic material which could eventually corrode and release a metal clip into the bowel.
BM Advisory said: "The administrators have been informed by the manufacturer of the Spatz adjustable balloon that prolonging the time of implantation is unsafe and not approved by the regulatory authorities beyond the one-year period.
"The safety of former patients of Celtic Springs Clinic is of utmost importance and the administrators have written to all patients in England and Wales advising them to contact the relevant person at their local health board in Wales or their local GP in England with regard to arrangements for their ongoing care.
"The administrators have also retained the dedicated patient helpline in the short-term and pending the adoption of ongoing treatment by the NHS - the number is 07592 591790".
A Welsh government spokesperson said: "We always expect private providers to honour their duty of care to patients, however the priority of the NHS is to provide care for whoever needs it.
"Patients who received treatment at Nucleus Healthcare Ltd and experience problems can be assured the NHS will not let them down."
The administrator is also working to find a suitable buyer for the clinic and say there have been a couple of interested parties.