Water supply cut shuts seven schools in Rhondda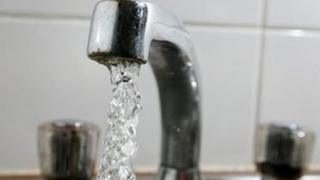 Six primary schools and a secondary school have closed after a cut in water supplies in Rhondda.
Welsh Water said a large strategic water main in Pontypridd burst because heavy rain had caused the ground to move.
Supplies have been affected in Llwynypia, Trealaw, Llwyncelyn, Penygraig, Tonypandy, Porth, and Clydach Vale.
The primary schools and Porth County Community comprehensive are shut.
The water company said it was carrying out emergency repairs to a strategic trunk main, and residents might experience intermittent supply.
Welsh Water spokesperson Kevin Bateman said: "We are working hard to restore supplies as quickly as possible. We apologise to customers for the inconvenience caused and will keep them informed of progress."
There could also be fluctuating pressures and possible discolouration while the work is carried out, Welsh Water said on its website.
The firm said the water was safe to drink, but customers experiencing discoloured water were asked to run their cold kitchen tap until clear.
Rhondda Cynon Taf council confirmed the school closures.
It is unclear how many properties are affected by the water problems.
The Welsh Water helpline is 0800 052 0130.