Cardiff University 'olive oil' coat protects buildings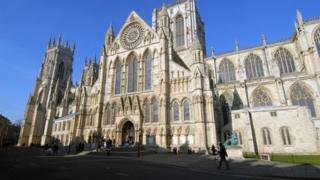 Crumbling historic buildings could be protected by a new clear coating derived from olive oil by scientists from Cardiff University.
The new treatment helps to prevent damage to limestone from pollution and acid rain.
The scientists developed the paint while working on the 19th Century stone of York Minster.
They say it would be suitable to protect other limestone buildings such as those in Cardiff civic centre.
Dr Karen Wilson, who led the project, said: "We've been working with the York Minster for the last few years.
"They historically used to use linseed oil as a way of protecting the building.
"The problem with linseed oil is that it starts to change colour over time and you see differences.
"We got thinking about other oils that we could use [such as] olive oil."
A component of olive oil is an acid that reacts to limestone surfaces.
"It produces a nice barrier coating that stops water penetrating into the pores of the actual stone itself," said Dr Wilson.
Acid rain
"It can help with protecting from things like acid rain."
The Cardiff team have developed their coating while working with scientists from the University of Iowa and UK science facility Diamond Light Source.
They believe the treatment could now be used to help conserve other historic limestone buildings around the world.
Dr Wilson said: "You only have to look at Cardiff's Cathays Park civic centre and Cardiff University's own main building to see the number of historic limestone buildings we have here in Wales.
"Wales, like many other parts of the UK, also has an abundance of beautiful limestone churches, cathedrals and other landmark buildings.
"We hope our work at York Minster will offer a new treatment to preserve limestone buildings across Wales already suffering from the effects of erosion."
The research was funded through a science and heritage scheme and published in the journal Scientific Reports.