Duke of Wellington descendant saves benefit cheat partner from jail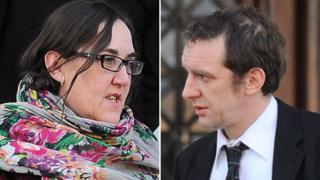 A wealthy descendant of the Duke of Wellington has saved his partner from jail by paying back more than £100,000 of benefits she claimed illegally.
Mother-of-10 Paula Carton, 49, of Abersychan, near Pontypool, south Wales, received benefits as a single mother while she was in a relationship with aristocrat Richard Wellesley.
She admitted four charges of fraud between September 2002 and June 2011.
Carton was facing jail until her aristocratic boyfriend paid the bill.
Cardiff Crown Court heard Mr Wellesley, 39, receives up £30,000-a-year from trust funds set up for descendants of Arthur Wellesley, the first Duke of Wellington.
Carton was let off an immediate jail sentence after Mr Wellesley promised the judge he would pay back every penny she claimed illegally.
Mr Wellesley paid the money back on Friday.
The court heard he secured an advance on his trust fund, which is held by Coutts, the Queen's bankers.
Carton had pretended Mr Wellesley was her landlord and she paid him rent.
But, in fact, they were living together in a house bought for them by Mr Wellesley's mother.
Over 10 years, she claimed housing benefit of £107,705.56 intended for hard-up families.
Gareth James, prosecuting, said: "Carton would not have been entitled to any of the money because her partner is a member of a wealthy family.
"Richard Wellesley is a wealthy man with trust funds which give him more than £30,000 a year.
"He is a member of the Wellesley family and in fact his lineage goes back to Arthur Wellesley - the Duke of Wellington.
"This benefits claim was fraudulent from the start and carried out over a significant period."
Romance
Mr Wellesley was a teenager and living on his family farm in Ireland when he started a romance with Carton.
When he was just 17 he had his first of two children with Carton - who already had eight children from a previous relationship.
The couple moved to Wales so Mr Wellesley could study at Aberystwyth University
They later settled in a £250,000 house in the former mining village of Abersychan and Carton started claiming benefits, including housing benefit.
Investigators found she had a joint account with Mr Wellesley whose name was also on a Sky TV subscription at that address.
Mr James said: "In fact Mr Wellesley's mother had bought the couple the property where she was living.
"On her benefit forms Carton claimed she was renting from Mr Wellesley.
"But after she was investigated by fraud officers she admitted he is a little more than a landlord."
Carton - whose children are aged between 32 and 19 - admitted four charges of benefit fraud between September 2002 and June 2011.
Andrew Gregg, defending, said: "She found it difficult to define her relationship with Mr Wellesley and that is why she began claiming these benefits.
"Mr Wellesley has led a somewhat itinerant lifestyle coming between Ireland and Wales to see her."
The court heard Mr Wellesley owns at least three houses, taking £1,800 a month rent from one in Bristol.
Mr Wellesley, who is paid £700 per month and £7,500 per quarter from his two trust funds, took an oath to promise he would repay the money.
Judge Malcolm Bishop QC sentenced Carton to 12 months prison but suspended the jail term on condition Mr Wellesley came up with the cash.
The court hearing was cancelled after they received confirmation at the last minute that wealthy Mr Wellesley had paid back all £107,705.56 of the fiddled benefits in cash.
A court spokeswoman said: "The hearing to ensure Mr Wellesley could secure the money from his trust fund will not be going ahead.
"We have received confirmation that he had paid back the full sum."