Billionaire Michael Moritz on luck, Gavin and Stacey and Wales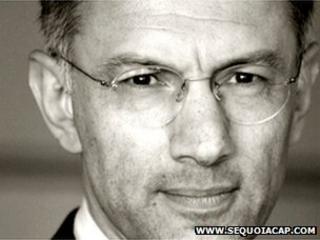 Cardiff-born billionaire Michael Moritz has spoken of how watching BBC sitcom Gavin and Stacey from his US home reminds him of growing up in Wales.
Mr Moritz says he and his wife have been catching up with the "wonderful series" set in part on Barry Island.
The internet venture capitalist, 58, who donated £75m to Oxford University in July, also told BBC Radio 4 that he was lucky to have made his fortune.
Shortly before, he was diagnosed with a an incurable but manageable disease.
The Sunday Times Rich List says he is now worth an estimated £1.08bn.
Of his fortune, much of which was made through investing in internet giants such as Google and YouTube, he said: "I realise that it's accidental.
"I know there are millions of people around the world have worked as hard and diligently as I have and weirdly enough, like [former US President] Jimmy Carter said years and years ago, 'life's unfair'.
"I just happen to have been very fortunate."
Mr Moritz went to what he called an "ordinary comprehensive": the now-closed Howardian High School in Penylan, Cardiff where he was the only pupil in his year to go to Oxford.
He moved to the US after graduating in 1976 and found his fortune by investing in big business names by joining venture capital firm Sequoia Capital.
A father-of-two, he spotted the potential in the then little known companies called Google - founded in 1998 - and YouTube, which was bought by Google for $1.65bn (£890m) in 2006.
Investments have also been made in Apple, PayPal and Yahoo.
On giving away millions, he said he and his wife came to the same agreement: "It feels like the right thing to do.
"We never expected in a million years to have the sort of assets at our disposal that we have today.
"Our families have been over the years the recipients of the generosity of complete strangers and now it is our turn.
Asked about Wales, he says: "Home is California, obviously.
"I have dual citizenship.
"I have been to Wales fairly frequently and my wife and I have just caught up with that wonderful series Gavin and Stacey which was set in Barry Island which was just a few miles from where I grew up so it was very real for the evenings I was watching Gavin and Stacey.
"But I have fond memories of Wales and go there now and again."