Cardiff 'crossrail' proposals by business lobby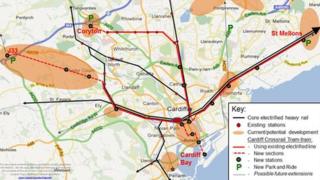 A business lobby group has unveiled plans for £200m Cardiff "crossrail" that it says is needed to help the city cope with housing and economic growth.
Metro Consortium says tram-trains which run on both roads and rails are the way ahead after the planned electrification of south Wales' rail lines.
It proposes crossrails east-west from St Mellons to the M4 at Creigiau and north-south from the M4 to the bay.
Lobbyist Mark Barry said: "Transport is the backbone of regional development."
In July this year, the UK government confirmed it would extend the planned electrification of the south Wales main line to Cardiff to Swansea and the south Wales valleys.
Mr Barry said the electrification work, expected to start sometime between 2014 and 2019, would make Cardiff easier to reach from outside than it would be to travel across it by rail.
His proposals say the city suffers from a relative lack of transport connectivity as its population is set to grow beyond 400,000 by 2026.
He suggests a network of continental-style tram-trains as part of a "Cardiff crossrail".
It would mean new stations places like Ely Bridge, St Mellons, Crwys Rd, Wedal Road [for University Hospital of Wales], Rover Way, Splott and Waterhall, phased over 10 years.
The scheme would attract new rail customers and encourage economic regeneration locally, bringing a higher density of mixed-used growth in those areas, he said.
A crossrail running from St Mellons to junction 33 on the M4 would use the electrified relief lines east of Cardiff Central railway station, the city line and the reinstatement of the old track from Fairwater to Creigiau.
A north-south crossrail would run from junction 32 of the M4 on the Coryton line to the bay. There would be an interchange with the east-west line at Callaghan Square.
Mr Barry said: "There are major development sites in the city, existing and new, which are not connected to the regional rail network.
"It's not a really clever, coherent strategy where most of your major sites do not connect to your regional transport network.
"Transport is not the be-all and end-all. It should be an enabler of development at key locations."
He said improving transport connections within Cardiff would also help unleash economic growth potential across the region as more towns and businesses become accessible by the city's growing population.
He said: "By better connecting Cardiff, you are also increasing the travel-to-work area of places like Newport, Pontypridd, and Caerphilly, which will allow them to play a more prominent regional role."
'Metro' rail network
His report states: "Whist this project is costly [perhaps £150m-£200m] it is affordable and can be delivered incrementally.
"For example, when one considers that 40,000 new homes in Cardiff could secure a sales value of £6bn (at £150k per residence) then it would not appear unreasonable or unrealistic to secure a proportion of this value to contribute to the overall costs of the Cardiff Crossrail project."
Mr Barry is an advisor for Metro Consortium, a group of business leaders, employers and developers, including Cardiff Business Partnership.
Last year the consortium called for a £2.5bn over 10 years to connect Cardiff, Newport and the valleys with a "metro"-style rail network.
Mr Barry's proposals are backed by Cardiff South and Penarth AM Vaughan Gething, chair of the assembly's cross-party group on rail.