Severn Estuary fossils reveal Stone Age fire starting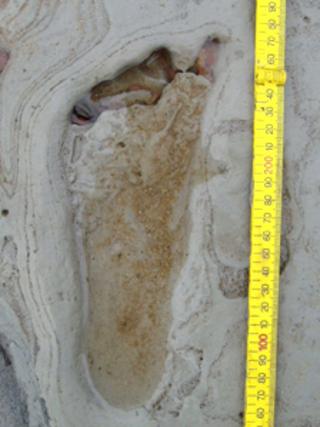 Stone Age fossil finds in the Severn Estuary suggest hunter-gatherers were shaping the environment long before farming started, say researchers.
Flint "tools" dating back 7,500 years as well as bones and campfire debris were found at Goldcliff, near Newport.
University of Reading academics said the finds pointed to Mesolithic people using fire to encourage plant growth.
Fossil footprints found in the estuary include those of children as young as four helping with food production.
The Mesolithic, or Middle Stone Age, started in about 10,000BC, as the last Ice Age ended.
The researchers have visited the site for the past two summers. On their most recent trip they found charcoal and hazelnut shells.
They believe this indicates fire was used to encourage the growth of plants, such as hazelnuts, crab apples and raspberries, all which were eaten at the site.
The university archaeology department head, Prof Martin Bell, said the Severn Estuary was exceptional in its evidence of the plants used by Mesolithic people, thousands of years before farming began.
He said: "Previously it was thought that these people were mainly hunting deer and simply responding to the spectacular environmental changes around them, such as sea level rise.
"Now there is increasing evidence that they were adept at manipulating their environment to increase valued plant resources.
"Combining our finds with the trees, pollen and insects from the area we can build a picture of the environmental relationships of Mesolithic hunter-gatherers.
"These people were highly adaptable and continued using the same site as the environment changed dramatically from old woodland to reedswamp, to saltmarsh and back to fen woodland."
Footprints of animals and birds are among those being found by the researchers, he said, along with those of people.
Prof Bell said: "The footprints include those made by children, which is extremely exciting as the role of children tends not to be visible in the archaeological record.
"They show youngsters as young as four were actively engaged in the productive activities of the community."
Prof Bell said the proposed Severn tidal barrage would have "very serious consequences" on a site that was "giving archaeologists an unparalleled glimpse into the life of a Stone Age settlement".