Aamir Siddiqi murder: Co-accused Ben Hope denies killing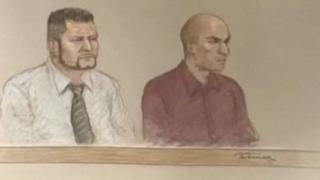 A man jointly charged with brutally murdering Cardiff student Aamir Siddiqi has denied any part in the 17-year-old's killing.
Ben Hope, 39, was accused by co-defendant Jason Richards of being "covered in blood" after Aamir's death.
Mr Hope denied this at Swansea Crown Court and called Mr Richards a fantasist who "lives in his own world".
The pair deny murdering Aamir in a bungled contract killing and the attempted murder of his parents.
'Drug stupor'
Mr Hope told the court that on the day that Aamir was killed in April 2010, he had gone round to Mr Richards' home in North Road to look at his television because Freeview was not working.
Mr Hope said he took his second dose of drugs that day at the house and they "sent me into a stupor," he told the court.
Mr Hope said he was not aware what was going on until Mr Richards woke him up.
A CCTV clip was replayed to the jury of the two defendants walking along North Road around an hour after Aamir's murder.
When Mr Aubrey asked him about the manner in which he was walking, Mr Hope said: "I am walking all over the place because of the drugs I had taken".
Mr Hope said he was carrying an envelope containing £1,500 which he said he had made from selling drugs.
He also told the court he was the more substantial drug dealer of the two defendants and was dealing in half a kilo and a kilo quantity of drugs as well as selling thousands of Valium tablets a week.
Mr Hope said he had gone to the store Footlocker the day Aamir was attacked to buy trainers because his old ones were "past their sell-by date".
He said he also went to PC World to buy a laptop because he intended to swap it for his mother's desktop computer.
When asked why he called himself "Dave" in the computer store, Mr Hope replied that it was "just an alias I use" and he did not want to end up on a junk mail database.
He said he changed his trainers in the back of a taxi and put his old trainers in the box which had contained the new shoes.
Mr Hope said he then threw the box in a bin a couple of hundred yards from his home in Janner House.
He also said he borrowed clothes that day from Mr Richards and left his old ones at Mr Richards' home.
When asked why he did this, Mr Hope said when he injected his arm with drugs it was bleeding and the blood became smeared down him when he had fallen asleep in a stupor.
He told the court that he did not see the clothing again and did not ask what had happened to it.
Mr Hope told jurors that when he and Mr Richards went to Cardiff Addictions Unit the day after Aamir was killed, Mr Richards said "he might have killed someone or words to that effect".
Koran lesson
Mr Hope said he did not believe the statement and, when asked why, replied that Mr Richards was a "bit of a fantasist" who "lives in his own world".
The jury was also told Mr Hope had previously been charged with murder.
Mr Hope said he had previously stood trial with three other people but the judge had directed the jury to find him and another person not guilty.
David Aubrey QC, defending Mr Hope, asked his client whether he was involved in the killing of Aamir or the attack on his parents and Mr Hope replied: "No, I was not."
The court has heard that just before he died, Aamir had been upstairs in his bedroom awaiting the arrival of an imam for a Koran lesson.
He came downstairs on hearing the doorbell and was attacked as he opened the door of the family home in Roath.
Aamir's father Iqbal Ahmad told how he and his wife, Parveen, were also injured while trying to fight off two attackers.
The trial continues.