Concerns over welfare of horses from Chepstow farm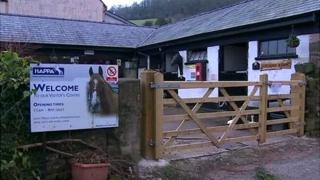 Concerns have been raised over the welfare of horses from a Monmouthshire refuge after the centre closed in December.
Supporters who donate money to the Horses and Ponies Protection Association (HAPPA) at Gregory Farm, Chepstow, have not seen the animals in weeks.
HAPPA said all adopters had been notified by post that the refuge had closed.
They blamed "local pressure".
Some of the animals have been moved to Burnley, Lancashire, while others have been rehomed with "loving" families.
Refuge supporter Jill Detheridge and her daughter Laura adopted three horses at the site over the last 15 years, including a horse called Club.
But they became concerned when they had not seen Club for more than two weeks.
Ms Detheridge said: "We would just like to know where she is, I have no idea where she is.
"It's really a dreadful thing to do to anybody, especially to lots of young people, who can't actually find out what's going on."
Her daughter, Laura, said: "I would like to see her again, and I miss her."
In a statement the charity said: "All current adopters have been notified by post of the move of their adopted equines."
And they added everyone would be "fully informed in due course".
The charity said the farm was closed partly due to criticism of some staff by people living in the area following speculation about the site's future.
Ruth Sinfield, who has been visiting Gregory Farm for 20 years, says she has written to the Charities Commission about her concerns.
"We wrote to HAPPA under the Freedom of Information Act and we're yet to receive a response and we've asked about the welfare of several named horses, and we're yet to receive a response," she said.
HAPPA says the closure of the site is a "short term solution", and is in the best interests of the staff and the horses.