James Hanna: Blaenavon Booktown man's child porn guilt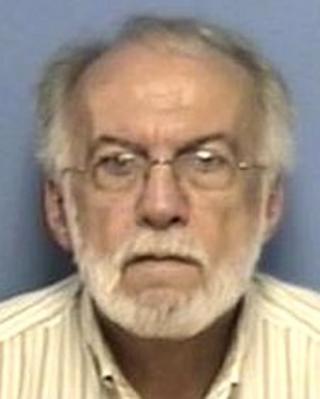 A man who ran a second-hand book scheme in south Wales a decade ago has pleaded guilty in a US court to producing images of child sexual abuse.
Mississippi-born James Hanna admitted producing sexually explicit photos of two 13-year-old girls in Arkansas.
Hanna, 66, was a key figure in the Booktown project in Blaenavon from 2003-06 and funded a local photography scheme for young people.
Gwent Police's own investigation is assessing images found by US police.
He had been charged with a string of child sex offences after police in Madison County, Arkansas, seized thousands of indecent image of children, some dating back decades.
He moved back to America some time after leaving the Booktown initiative in February 2006.
The initiative aimed to regenerate the town, encouraging people to open second hand bookshops.
There are currently only two bookshops left in Blaenavon which opened as part of Booktown.
Gwent Police said a review into allegations made against him in 2006 is ongoing.
It is understood that they are also now investigating images referred to them following the police investigation in America.
It is known that Hanna worked with schoolchildren and local youth projects when he lived in Blaenavon, although he was not employed directly by the local authority. He was also involved in a number of photography projects with teenagers.
He is expected to be sentenced in the US within 45 to 90 days.
Visitor's visa
A hearing is also expected this month at which Hanna will face charges of rape and sexual indecency, police in Arkansas have said.
There are calls for a review of how Gwent Police and Torfaen council dealt with concerns raised with them about Hanna, between late 2003 and 2006.
It is understood he was in the UK on a visitor's visa only.
In a statement, Gwent Police said: "A review into allegations made against a 66-year-old man in 2006 is ongoing.
"In light of new information received from police in Madison County, Arkansas, USA, officers in Gwent have launched a new investigation into the same individual."