Madeleine Moon MP's tribute to husband's carers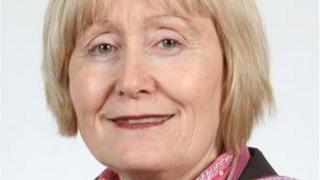 A Welsh MP has paid tribute to the carers looking after her husband, who has dementia, and says they allow her to continue doing her job.
Madeleine Moon, Labour MP for Bridgend, gave a personal account of living with somebody with the condition to MPs in the House of Commons.
She described how the carers took him to the theatre, out for walks and made him laugh.
Mrs Moon said she had turned her home into a mini hospital.
"I have wonderful carers who look after my husband, absolutely amazing," she said.
"I have two people who work only for me and they look after my husband full time, they have allowed me to carry on with my job and they have allowed me to carry on having a life."
Mrs Moon said it was important to allow her husband, who has Pick's disease, the freedom to make his own decisions.
"We communicate with him in all sorts of ways, we draw things, we write questions down and his capacity for movement is now extremely limited but he finds a way to at least say yes or no," she said.
"We still insist that he makes decisions, that we don't make the decisions for him."
She said it drove her crazy when nurses and other professionals did not take the time to do that.
"Even for someone with quite profound dementia there is often a way in, there is still a person in there and it is our jobs as professionals to find that person and to get in there and just find some way," she told MPs.
Mrs Moon said the worst thing for those looking after people with dementia was the isolation, because people did not how to talk to those with dementia.
'Brutally honest'
She also underlined the importance of research and greater understanding among GPs.
"GPs need to ask very early on and talk to carers. How do you two want to play this? Do you want me always to be brutally honest with you or do you want some protection from what's happening?" she said.
"We have to find a way of being more honest and more mature and not patronise people with dementia.
"We have to keep that person in their life and central to their life, central to their family for as long as it is possible.
"It is only then that I think we can hold our heads high as a decent society, as a caring and a compassionate society, and actually make dementia something that we are no longer afraid of, that's something that we fight."