Traffic wardens back in Vale of Glamorgan and Bridgend in April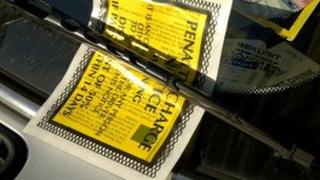 Traffic wardens are to patrol the streets of Bridgend and the Vale of Glamorgan again from April after a gap of two years.
Both authorities have joined forces to reintroduce the wardens after control switches from the police.
Seventeen civil enforcement officers - as the wardens are now called - will be on duty seven days a week, including bank holidays.
Twelve are being recruited for Bridgend county, and five more for the Vale.
From April the authorities will launch a campaign with wardens encouraging drivers to park responsibly, by identifying problem hotspots, and offering alternative spaces.
A spokeswoman for the Vale of Glamorgan said it had not enforced parking restrictions over the two-year period.
"The police have been dealing with enforcement [on] illegal parking in the meantime," she added.
Businessman Paul Haley, chairman of the Pride in Barry community association, said the wardens would be very welcome in the town.
"I don't think there's been any enforcement of parking restrictions," he said. "It's areas like the high street that are very keen for the traffic wardens to return.
"One side has two-hour parking but without the wardens people in the offices park there all day which, obviously, stops the customers parking.
'Hugely disruptive'
"The high street relies on a high turnover of short-stay parking."
Mike Gregory, the cabinet member for resources at Bridgend council, said: "We've all been inconvenienced by inconsiderate or obstructive car parking at one time or another, but for some residents and businesses, it can be a hugely disruptive and regular problem.
"Many other councils in Wales have already launched civil parking enforcement schemes, but the partnership approach that is being adopted between Bridgend and the Vale will be unique, and will greatly improve the situation for the benefit of visitors, businesses and residents alike."
Rob Curtis, the Vale of Glamorgan cabinet member with responsibility for traffic management, said: "Most drivers are considerate and use designated parking spots.
"But there are some who think they can park wherever they like, without any consideration to other road users, pedestrians or traders.
"These are the people our officers will be specifically targeting during our Park It! campaign. Our message to these problem parkers is: park it properly or face a fine."
Penalty levels
The civil enforcement officers, who will be identifiable by their black and blue uniforms, will be issued with handheld computers with cameras.
They will be able print tickets, ensure the data is logged and take photos of both the offending vehicles and of the ticket fixed to their windscreen.
From 1 April, two levels of penalty charges apply. The higher band will be £70 which is reduced to £35 if paid in 14 days, with the lower band at £50 or £25 if paid within the same time limit.
If the penalty payment is late, the charge increases to £105 and £75 respectively.
The councils applied to the Welsh government last year to allow the creation of a parking enforcement area across both counties.
Last June traffic enforcement officers returned to Ceredigion after an absence of a year. That delay followed a switch in control from police to the county council, which said it took time to put its system in place.