Wales snow: Elvis Presley video parody spreads gritting message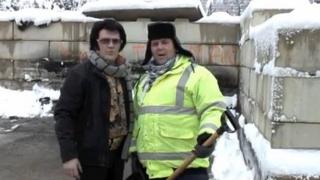 An Elvis Presley impersonator has teamed up with a south Wales council to make a comical video explaining their efforts to clear the streets of snow.
Darren "Graceland" Jones croons a version of In The Ghetto called In The Depot for Torfaen council.
The two-and-a-half minute parody was filmed in Pontypool Park, Cwmbran bus station and a council depot on Friday when the area was first hit by snow.
A council spokesman said: "The reaction we've had to it has been brilliant."
"We are bombarded with queries about the weather and anything we can do to make the message stick we'll try."
The rewritten lyrics in the song include: "When the weather turns / Blaenavon is a little more north and cold / Spread grit thick on iced-up roads / In the depot".
Torfaen has been one of the areas worst affected by the cold snap, with most of its schools closed since Friday.
Neil Jones, Torfaen council's head of communications, said: "We're always looking at innovative ways to engage residents with innovative and memorable council messages.
"We have built a fantastic online community and this is a fun way to show residents our appreciation for their helpful comments during the past few days.
"This video highlights the vital work of our winter maintenance crews and we must thank Darren 'Graceland' Jones for giving his time to help important messages on gritting."
Darren 'Graceland' Jones, a local man from Cwmbran, led a record-breaking gathering of Elvises at a festival in Porthcawl in September shortly after being voted the best Elvis impersonator in Wales.
Click here to watch the video on the Torfaen council website